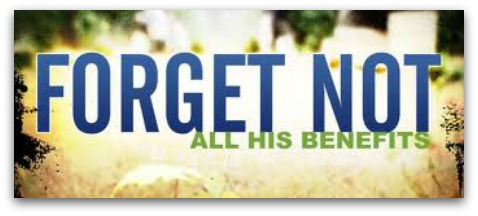 We Never Should Forget His Benefits
O my soul, bless GOD, don't forget a single blessing!  
Psalm 103:2 Msg
Has anyone ever asked you, "What are the benefits of being a Christian?" My brothers and sisters have asked me this question many times. So, you too may ask, "What are the benefits of being a Christian?"
I'm happy to answer. And I am glad that I don't need to answer off the cuff, because God gives the answer in His Word!
Psalm 103 speaks of His benefits: "Bless the Lord, O my soul; and all that is within me, bless His holy name! Bless the Lord, O my soul, and forget not all His benefits."
First, He created us and gave us life. Then, when we chose to give ourselves to Him, we came into the many benefits of being God's beloved. Here is the list:
Psalm 103, "Bless the Lord, O my soul, and forget not all His benefits; Who forgives all your iniquities, who heals all your diseases, who redeems your life from destruction, who crowns you with loving-kindness and tender mercies, who satisfies your mouth with good things, so that your youth is renewed like the eagle's."
What can we expect from God as His son or daughter?
He forgives our sins. What an awesome benefit! When we accept Jesus, all the sin nature and all the sins we have committed are forgiven. Jesus paid the price, once and for all. We can be clean, and that's a wonderful feeling. All the guilt, pressure, and stress that sin brings can be gone. It's a benefit of being a child of God.
He heals all our diseases. When Jesus bore the stripes for our sicknesses, He paid the price in full for our healing. God is a good God and He wants to heal us from the top of our head to the soles of our feet.
He redeems our life from destruction. There are times in our life when it seems there is no way, all is lost, and there is no way of escape. But God is always there to redeem us and restore to us the joy of our salvation.
He covers us with loving kindness and tender mercies. His mercies are new every morning. While we were far away from Him and didn't recognize Him as the God of the universe, He sent his son Jesus to die in our place, for our sins. Why? Because He loved us.
He satisfies our mouths with good things. He not only wants to give back to us what we lost to the swarming locusts, the hopping locusts, the stripping locusts, and the cutting locusts, but he wants us to have all good things. James 1:17 says, "Every good gift and every perfect gift is from above, and comes down from the Father of lights."
He renews our youth. People are looking everywhere for secrets to staying as young as possible, but they are looking in the wrong places. God renews youth and He has given it to those who believe in His Son Jesus. Now those are some pretty impressive benefits! 
If you haven't already, make the choice to accept Jesus as your Lord and Savior. His benefits will be yours, too.  Now, that's the choice-driven life!
Today's Bible Reading: 
2 Sam 7-8; 1 Chr 17; Acts 25; Ps 132

Click Here for your 5 Day Weekly Bible Reading plan!
Subscribe to our FREE Updates as soon as they are published and receive our FREE Report; Click Here
The Most Important Choice You Can Make:
Prayer for Salvation:
God in Heaven, I come to You in the name of Your Son, Jesus. I confess that I haven't lived my life for You. I believe that Jesus is the Son of God. I believe that He died on the cross and rose again from the dead so I might have a better life now and eternal life in heaven. Jesus, come into my heart and be my Lord and Savior. From this day forward, I'll live my life for You to the best of my ability. In Jesus' Name I pray, Amen.
Click Here if you need more information.