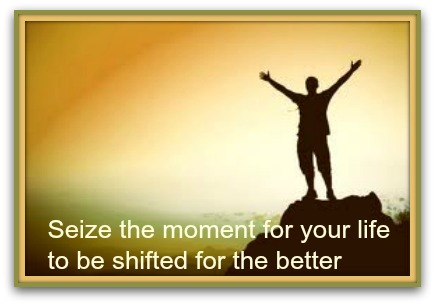 How To Create A Shift In Your Life
So faith comes from hearing, and hearing through the word of Christ.
Romans 10:17 ESV
Have you ever felt like you needed a shift or some new direction in your life? You're in the middle of the wilderness, with no roads or even signs to show a new way. Even if there were roads or signs, you're not expecting anything good. It's all ho-hum, nothing exciting. I'd like to share a powerful insight about understanding your own times and seasons that can change this way of thinking.
We all know that God loves us and that He wants the very best for us no matter what. His desire for us is that we prosper in every area of our lives. We should want His will for our lives, because that is the very best for us. He created us, with unique gifts and talents, and made us dependant upon Him. By the way, God likes our dependence and it's good if we like it too.
God is all-powerful and unstoppable. He holds our times and seasons in His hands. Even though we are dependant on Him, many people make the leap that the season they are in can be left entirely to God's sovereignty. Oops! Big mistake! They do nothing, leaving everything in God's hands. In their eyes, it's all up to God. They wait for God to make His move to get their life to a better place, their breakthrough, their healing or stepping into their calling. It's all up to God, whenever He wants it to happen, it will happen. When it doesn't, they think God wants to teach them a lesson through a prolonged waiting season.
We were not created to be passive. We are called to be in communion with God, to recognize the opportunities He gives us and be ready to take action. We are to be involved in our destiny and the season and times of our lives. You recall that when Jesus came to the well and met the Samaritan woman "by accident?" Her life was all messed up and bound up in immorality. She saw no way out. There she was, going about her daily tasks like any other day. Out of nowhere appears Jesus who knows everything about her and still wants to talk to her. It was a rare event for someone to speak to her. From that day forward her whole life was changed for the better. Why?
The Samaritan woman was open to a change in her life and seized the moment. Her messed-up circumstances made her long desperately for a change. Her eyes were opened to who Jesus was and she was compelled to share it with everyone in her town. Her season was shifted in one single moment.
There are many stories and situations in the Bible that show us that when Jesus shows up, things drastically change. I found this to be true in my life, too. Years ago my husband and I went through a very difficult time in our marriage and we thought that the only way out was a divorce. We were meant for each other, but circumstances and family situations had brought too many hardships, and we just wanted to give up.
But Jesus showed up. We didn't even know Him yet, but He turned the whole situation around in one moment on one day. After that, the word "divorce" went out the window, which was the best decision we ever made.
Will you make the choice to seize the moment for your life to be shifted for the better? Now, that's the choice-driven life!
Today's Bible Reading:
1 Sam 26-27; 1 Chr 8; Acts 18

Click Here for your 5 Day Weekly Bible Reading plan!
Subscribe to our FREE Updates as soon as they are published and receive our FREE Report; Click Here
The Most Important Choice You Can Make:
Prayer for Salvation:
God in Heaven, I come to You in the name of Your Son, Jesus. I confess that I haven't lived my life for You. I believe that Jesus is the Son of God. I believe that He died on the cross and rose again from the dead so I might have a better life now and eternal life in heaven. Jesus, come into my heart and be my Lord and Savior. From this day forward, I'll live my life for You to the best of my ability. In Jesus' Name I pray, Amen.
Click Here if you need more information.