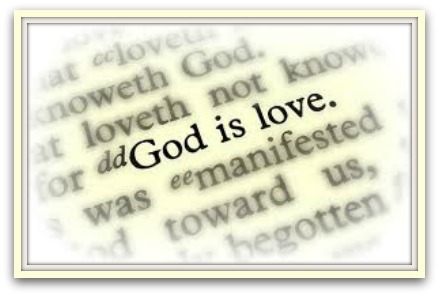 Love Never Fails
But the fruit of the Spirit is love, joy, peace, forbearance, kindness, goodness,
faithfulness, gentleness and self-control. Against such things there is no law
Galatians 5:22,23
It's on my heart to dig into the fruit of the Spirit with you. So, are you ready to know more? As we examine the fruit of the Spirit, we see that the first fruit mentioned is what the law and scriptures are based upon and that is: LOVE! Unfortunately, the word love is so overused in our society, that it has become less meaningful. We express our preference or affection for everything from people, to food, to clothes and pets, by saying we love them. That is superficial love. God's concept of love is not superficial. When the Word of God refers to love, it has meaning, substance, and importance.

Each and every fruit of the Spirit follows from love. Much like the many segments of an orange, love also has segments such as patience, humility, faithfulness, etc. If we walk in love, we'll walk in all the other eight fruits of the Spirit.

Jesus loved us before we ever loved Him in return. He chooses to love us in spite of how we treat Him. It's easy to love when you are loved in return. But when our love is not returned is can be a difficult and emotional choice to us to continue in love. Not so with Jesus. He loves us even before we return our love for Him.

As Jesus' followers, we are given the ability to love by choice, despite of how we may feel. In Romans 5:5 we are told that we have the love of God once we receive Jesus as Lord and Savior. He is love.

The more you choose to love, the more it becomes a natural impulse in your life. The fruit of the Spirit is similar to the muscles of our physical bodies that need to be exercised to grow stronger. By making repeated choices to walk in love, we strengthen our ability to walk in love.
Will you choose love as the emotional measuring stick that causes all the other emotions to line up? Now, that's the choice-driven life!
Today's Bible Reading:
1 Sa 20;1 Chr 4;Acts 14; Ps 56, 57, 142

Click Here for your 5 Day Weekly Bible Reading plan!
Subscribe to our FREE Updates as soon as they are published and receive our FREE Report; Click Here
The Most Important Choice You Can Make:
Prayer for Salvation:
God in Heaven, I come to You in the name of Your Son, Jesus. I confess that I haven't lived my life for You. I believe that Jesus is the Son of God. I believe that He died on the cross and rose again from the dead so I might have a better life now and eternal life in heaven. Jesus, come into my heart and be my Lord and Savior. From this day forward, I'll live my life for You to the best of my ability. In Jesus' Name I pray, Amen.
Click Here if you need more information.