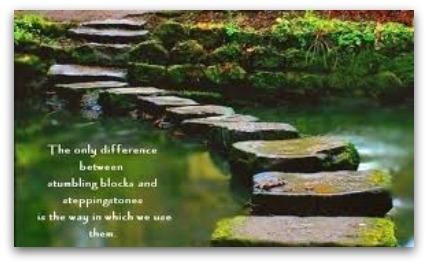 Stepping Stones or Stumbling Blocks? 
"Fear not, for I am with you; be not dismayed, for I am your God. I will strengthen you, yes,
I will help you, I will uphold you with My righteous right hand"
(Isaiah 41:10).
There is something that you can do about the scars in your life, but you have to make a choice to use your will. God is able to turn your scars into stars. We all have stumbling blocks in our life and they can be turned into stepping stones.
God desires to turn all your bad experiences and all the wrong choices you've made into something that will work for your good. But He only will do that if you let him. Have you ever heard "Let go and let God"?

We all make wrong choices and we all make mistakes. Our faults and sins often bring bad things into our lives. Sometimes they happen because of wrong relationships with others who have their own shortcomings, sins and failures. On the other hand, bad things can also happen when we are living in obedience to God.

There are times in your life where the enemy comes in to distract you from doing the will of God. These are instances in which an attack, or an assault from the enemy, is used to distract you. The apostle Paul said, "All who desire to live godly in Christ Jesus will suffer persecution" (2 Tim. 3:12).

If you make up your mind and set your sails to go against the enemy, you will encounter opposition and persecution for living in a godly manner. Do not become discouraged. God said that He will be with you. He will strengthen you, and He will uphold you with His right hand (Isa. 41:10).

In the lives of both Jesus and the Apostle Paul, people didn't exactly stand up and cheer when the sick were healed and devils were cast out. While some were happy, others were greatly disturbed and angry at what was happening. Stephen was stoned to death, and James was beheaded. Paul was constantly persecuted, not for doing wrong, but for doing right.

The good news for us is found in what Jesus accomplished on the Cross. He said in John 16:33, "In the world you will have tribulation; but be of good cheer, I have overcome the world." Because Jesus has overcome the world, we need to see ourselves from His perspective: seated in heavenly places with Him (Eph. 2:6). We are overcomers. We are even more than overcomers. 
God is definitely turning your scars into stars.
Will you make a choice to see yourself seated in heavenly places with Christ Jesus? You will overcome tribulation, tests, trials, and persecutions because the Overcomer lives in you, which makes you MORE than an overcomer!  Now, that's the choice-driven life!
Today's Bible Reading:
1 Sam 17; 1 Chr 2; Acts 12

Click Here for your 5 Day Weekly Bible Reading plan!
Subscribe to our FREE Updates as soon as they are published and receive our FREE Report; Click Here
The Most Important Choice You Can Make:
Prayer for Salvation:
God in Heaven, I come to You in the name of Your Son, Jesus. I confess that I haven't lived my life for You. I believe that Jesus is the Son of God. I believe that He died on the cross and rose again from the dead so I might have a better life now and eternal life in heaven. Jesus, come into my heart and be my Lord and Savior. From this day forward, I'll live my life for You to the best of my ability. In Jesus' Name I pray, Amen.
Click Here if you need more information.