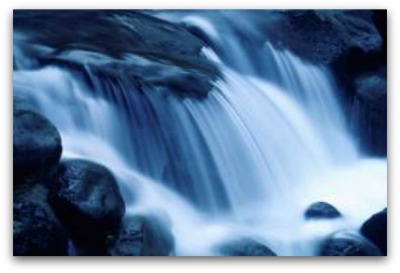 The River of God Cleanses You for Obedience
"Purify me from my sins, and I will be clean; wash me, and I will be whiter than snow.
Create in me a clean heart, O God. Renew a loyal spirit within me"
(Psalm 51:7-10).


God's river purifies and cleanses our natural bodies, so the fountains of God's supernatural water (the Holy Spirit) cleanse and purify us spiritually.

The river of God produces justice and righteousness in our lives, and in our land. Justice is correct and truthful judgment. So, one who is just treats others with honor and dignity in lawful accordance with God's Word.

The river of God poured down from heaven produces His justice in our lives to give us His ability to love others as He loves us. Lives and lands without justice don't have the river of God flowing through them. Justice springs out of righteousness. And righteousness establishes right relationships: between God and ourselves, then flowing to those around us.

It is the Spirit of God who produces a hunger and thirst for justice and righteousness in our lives (Matthew 5:6). So, for us to be just and righteous, we must surrender all to Him. Matthew chapter 6 describes how we can appropriate God's righteousness and justice in our daily lives.

Both spiritual and physical blessings flow as God's Spirit is poured out upon us and our children. Children, in a sense, are parents' tenderly cultivated fields.

Godly parents long to see their children blessed (Luke 11:11-13). And God's Word instructs us as good parents to leave an inheritance for future generations (Prov.13:22).

Here is a paraphrase of a medieval story: A young monk came to the monastery's abbot wanting to learn obedience. So the abbot went into the abbey's orchard and snipped a cutting from one of the apple trees. Then he had the young monk carry a pail of water and follow Him into the nearby desert.

After walking for about an hour, the abbot took the cutting and stuck it in the ground. Then he poured water around the newly planted twig and told the monk, "Water this morning and evening until I tell you differently."

So for three years, each morning and evening, the monk faithfully watered the apple cutting as it grew into a small tree. At the end of the three years, the abbot asked the monk "Is there any fruit on your tree in the desert?"

"Yes, abbot," the young monk replied.

"Pick it and bring it to me," commanded the abbot.

So the young monk walked the mile out and back as he had done twice a day for three years. But this time he picked the fruit that had grown on his tree in the desert. When he brought the apple to his abbot, the abbot instructed, "Now, eat the fruit of your obedience,"

The river of God flows with the power to obey.
Will you make a choice to exercise your will to obey? Because the ability to obey comes from the fruit of the Spirit of God.  Now, that's the choice-driven life!
Today's Bible Reading:
1 Sam 15-16; 1 Chr 1; Acts 11; Ps 39

Click Here for your 5 Day Weekly Bible Reading plan!
Subscribe to our FREE Updates as soon as they are published and receive our FREE Report; Click Here
The Most Important Choice You Can Make:
Prayer for Salvation:
God in Heaven, I come to You in the name of Your Son, Jesus. I confess that I haven't lived my life for You. I believe that Jesus is the Son of God. I believe that He died on the cross and rose again from the dead so I might have a better life now and eternal life in heaven. Jesus, come into my heart and be my Lord and Savior. From this day forward, I'll live my life for You to the best of my ability. In Jesus' Name I pray, Amen.
Click Here if you need more information.