You Can Be Creative in Your Time with God
"As the deer pants for streams of water, so my soul pants for you, O God"
(Ps. 42:1).
It's part of human nature to gravitate to the same things over and over again. We like to eat the same foods, wear the same style clothes, and even sit in the same seat at church. And eventually we recognize that we're in a rut and we become restless for change.
We can even get in a rut regarding how we spend time with God.
We know we need to read the Word and study it on a regular basis. There should also be times of worshipping and praising God for who He is.
But the same routine becomes boring. And boredom diminishes our desire to do it. Don't allow that to happen. Get creative so your time with God stays fresh and vibrant. Change up your routine so you'll have fresh embers and fresh coals to stoke the fire of your relationship with the Lord.
Begin by changing your quiet time by worshipping differently. Worship is the very essence of your relationship with God. When you worship God, you make Him bigger than your problems. Tell God how awesome and magnificent He is in everything that you see around you and on the inside of you. You need to thank Him for all the wonderful things He has done for you and for His faithfulness and kindness toward you.
"Enter his gates with thanksgiving and his courts with praise; give thanks to him and praise his name" (Psalm 100:4).
This verse tells us that there is only one way to enter into God's courts: with thanksgiving and praise. It's how we get to the heart of worship, experience His presence, and are touched in the core of your being.
Be sincere whether you are worshiping Him or reading His Word. Whatever you do, put your whole heart into it. Don't ever sing a song for the sake of singing a song. Don't let it come only from your lips and not from your heart. Sing songs that stir your heart and inspire your soul – and sing them to Jesus.
Another area that you can change is your prayer time. You might want to start praying for different things. One thing that I've learned is not to go down a list, like a to-do list. You can easily shortchange your worship by going down a list. Instead allow time for the Holy Spirit to direct you what to pray about.
A pastor once advised me to pray for other people who have the same problem I was having. For instance, if you are experiencing problems in your marriage, pray for others' marriages to be restored and healed. Take your eyes off yourself and serve others that way! You'll be amazed at what will begin to happen in your life when your prayer time consists of more than just checking off items from your prayer list. Follow the leading of the Spirit in prayer.
Will you make a choice to open your heart to creative ways to spend time with God? It's a time to get to know Him and to let Him stir your heart for others.  Now, that's the choice-driven life!
Today's Bible Reading:
1 Sam 6-8; Acts 7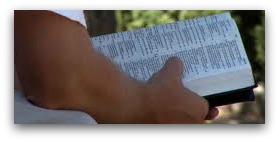 Click Here for your 5 Day Weekly Bible Reading plan!
Subscribe to our FREE Updates as soon as they are published and receive our FREE Report; Click Here
The Most Important Choice You Can Make:
Prayer for Salvation:
God in Heaven, I come to You in the name of Your Son, Jesus. I confess that I haven't lived my life for You. I believe that Jesus is the Son of God. I believe that He died on the cross and rose again from the dead so I might have a better life now and eternal life in heaven. Jesus, come into my heart and be my Lord and Savior. From this day forward, I'll live my life for You to the best of my ability. In Jesus' Name I pray, Amen.
Click Here if you need more information.