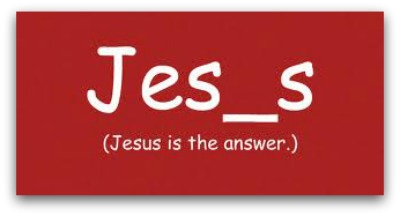 The Answer to Every Problem
"…I am come that they might have life…"
John 10:10 KJV

In the Greek New Testament, the word zoe refers to the life that is given by God through Christ Jesus to those who believe the gospel. It is commonly modified by the adjective aionios [English: eon] which means "eternal", "everlasting", or "of endless duration."
How do we come to experience this zoe life? Is it learned through life lesson's and experience? There are many lessons to learn in life. One of those lessons is most certainly the lesson of the cross of Jesus Christ. At the cross you learn to lay down your own life; to die to your own life and gain the zoe life into your whole being. Our greatest need is not just lessons, but life itself!
My family and I have been in churches that teach many lessons on life, but Jesus is the only one who can give us life itself. Think about that and try to realize the significance of that. Jesus gave us the gift of life. That is how much He loved us before we loved Him.
Some people believe they need to be taught by making mistakes and failures, but that is not necessarily true. We don't need to behave badly to learn how to live or cure bad behavior. It is sad that we think that we must experience life's toughest lessons to learn how to live correctly.
Humanity is seeking an answer to its unanswered question; it cannot be cured with education, medicine, religion or training in good manners. There is only one answer to all our needs in life and that is the death and resurrection of Jesus Christ.
Today is a good day to think about what happened on that cross and what lessons it gives for today. Before Adam sinned in the Garden of Eden, he lived in the Glory. He and Eve lived in fullness of life as God intended. There was no sickness, fear, envy, jealousy, competition or hatred; nothing of that.
Then came the moment in which Adam disobeyed the one command that was given to him by the Father. At that very moment sin and death entered into their lives. All the manifestations of the devil that we experience today entered into humanity.
The four gospels tell of Jesus' miracles and of His teachings to educate us why He came and why He had to die and leave this earth. His final teaching to us was His death on the cross for all mankind.
What Jesus did on the cross for us was the ultimate life lesson. God required the sacrifice of the perfect Lamb, and mankind needed the death and resurrection of the only begotten Son of God. Jesus said, "When I am lifted up from the earth, I will draw all men unto Me" (John 12:32).
Jesus, the Son of God, had the capacity to absorb all of the world's sin into His great heart. In His death on the cross, He was demonstrating the condition of humanity and the ending of the reign of sin. Such a glorious act. When He was raised from the dead, He became the firstborn from the dead and all of humanity was filled with new life; the life of God Himself!
The cure for the condition of humanity is eternal life! Jesus came to give us his life and nature. "…I am come that they might have life…" (John 10:10 KJV).
Jesus died to give us His life. Man's greatest need is life. This is real life–eternal life. It is the God-kind of life–it is spiritual life, overcoming life, love life, victory life, joy life! "He that hath the Son, hath life…."
When a person chooses to believe and receive Jesus, God's love gift to every man, he/she receives His life and passes from death to life (John 3:16; 5:24).
Will you choose to believe that the answer for every problem and everything we need is found in His life? Now, that's the choice-driven life!

Today's Bible Reading:
Judges 12-16; Luke 24; Psalm 146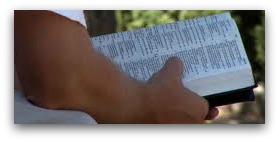 Click Here for your 5 Day Weekly Bible Reading plan!
Subscribe to our FREE Updates as soon as they are published and receive our FREE Report; Click Here
The Most Important Choice You Can Make:
Prayer for Salvation:
God in Heaven, I come to You in the name of Your Son, Jesus. I confess that I haven't lived my life for You. I believe that Jesus is the Son of God. I believe that He died on the cross and rose again from the dead so I might have a better life now and eternal life in heaven. Jesus, come into my heart and be my Lord and Savior. From this day forward, I'll live my life for You to the best of my ability. In Jesus' Name I pray, Amen.
Click Here if you need more information.