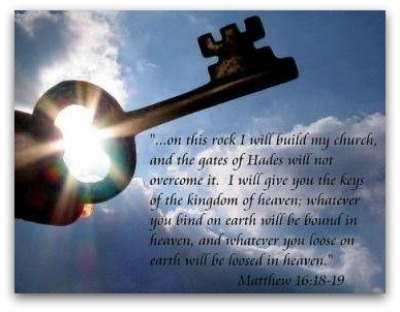 Are you Binding and Loosing?
 And I will give unto thee the keys of the kingdom of heaven:
and whatsoever thou shalt bind on earth shall be bound in heaven:
and whatsoever thou shalt loose on earth shall be loosed in heaven.
Mat 16:19 
What is binding and loosing? Binding and loosing are ways God has given us to exercise authority over the devil.   Let's have a look at Luke 13:11-12 "And, behold, there was a woman, which had a Spirit of infirmity eighteen years, and was bowed together, and could in no wise lift up herself. And when Jesus saw her, he called her to him and said unto her, Woman, thou art loosed from thine infirmity."
Can you see the authority that Jesus used in what He said? He declared publicly: "Woman, you are loosed from your infirmity."  Notice, He didn't go up to the woman and pray something like "Father, I am praying and asking you to release this woman from this infirmity."
NO! Jesus knew the will of God so He declared it boldly. He knew His authority, and so He issued a command.
What lesson are we to learn from this? When we desire to exercise authority over the devil, we must already know God's will on the matter.   God's will is our authority.  You see, binding and loosing is not for you to pray an uplifting prayer.  No, it is a command from you to the devil.
So then, you also must know God's will in an area before you exercise your authority.  But even before that, you must be convinced that you HAVE the authority.  The authority comes from the presence of God.
While on earth, Jesus knew that God had anointed Him for His ministry.   Acts 10:38 tells us that God anointed Jesus and that "…He went around doing good and healing all who were under the power of the devil, because God was with Him."  God was with Jesus by the anointing.  And since God was with Jesus, He is with you today. Do you believe that?
Is God with you, too? Yes. God is with you the same way He was with Jesus, by the anointing. Where is the anointing? The anointing is in you and on you. The Scripture says, "Greater is He that is in you than he that is in the world (I John 4:4)" And you have the anointing upon you, which is the baptism of the Holy Ghost. Yes, you are immersed in the anointing of the Holy Ghost.
Isn't that awesome? Jesus knew the will of the Father. He didn't have to pray for this woman, but spoke her deliverance into existence. He said: "Woman you are loosed from your infirmity." And then He laid His hands upon her and immediately she was made straight and glorified God.
You can do the same thing! Will you make a choice to step into your authority given by Jesus and declare the will of God into your life and the lives of others? Now, that's the choice-driven life!
Today's Bible Reading:
Joshua 5-8; Luke 15; Psalm 14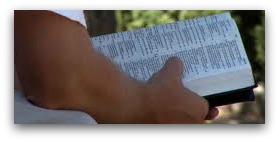 Click Here for your 5 Day Weekly Bible Reading plan!
Subscribe to our FREE Updates as soon as they are published and receive our FREE Report; Click Here
The Most Important Choice You Can Make:
Prayer for Salvation:
God in Heaven, I come to You in the name of Your Son, Jesus. I confess that I haven't lived my life for You. I believe that Jesus is the Son of God. I believe that He died on the cross and rose again from the dead so I might have a better life now and eternal life in heaven. Jesus, come into my heart and be my Lord and Savior. From this day forward, I'll live my life for You to the best of my ability. In Jesus' Name I pray, Amen.
Click Here if you need more information.