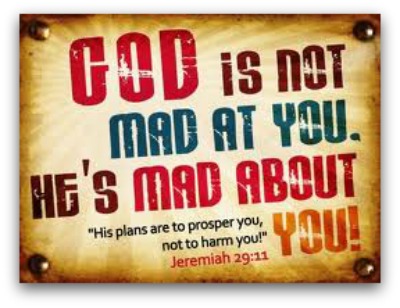 God Is Not Mad At You
But God shows his love for us in that while we were still sinners, Christ died for us.
Romans 5:8 ESV
God sent his Son to die for mankind when the world was in a sinful state. Would you give your life for someone who despised you? That is exactly what Jesus did, according to Romans 5:6-8. God loved you so much, that even before you loved Him, when you were against Him, He sent Jesus to die for you.
It's unthinkable for a parent to allow His child to die for another individual. Yet, that is exactly what God did for you and me. He did this because of His strong love for us.
You must be important for God to have allowed His only Son to die for you. He saw your potential. He saw what you could be in Christ. Never forget how special you are to Him.
As a result of the death of Jesus on the cross, we are saved every day from the effects of sin, which include disaster, calamity, tragedy, darkness and oppression.
The key to receiving the revelation of God's love for us is to believe. John 3:16-17 says "This is how much God loved the world: He gave his Son, his one and only Son. And this is why: so that no one need be destroyed; by believing in him, anyone can have a whole and lasting life. God didn't go to all the trouble of sending his Son merely to point an accusing finger, telling the world how bad it was. He came to help, to put the world right again (AMP)."
When God looks at you, He doesn't see a condemned sinner. He sees a righteous son or daughter. He sees you – not through the fallen nature of Adam – but through the blood of His Son, Jesus.
The Bible is filled with promises of what you can be in Christ. As you make a choice to believe, receive, and act on these promises, you will walk in the reality of who you are in Christ. God loves you.
Will you make a choice to line up your thoughts, words, and actions with the beautiful promises of the Word of God? Now, that's the choice-driven life!
Today's Bible Reading:
Deuteronomy 6-9; Luke 7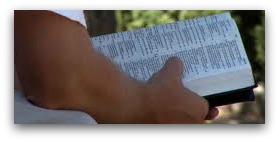 Click Here for your 5 Day Weekly Bible Reading plan!
Subscribe to our FREE Updates as soon as they are published and receive our FREE Report; Click Here
The Most Important Choice You Can Make:
Prayer for Salvation:
God in Heaven, I come to You in the name of Your Son, Jesus. I confess that I haven't lived my life for You. I believe that Jesus is the Son of God. I believe that He died on the cross and rose again from the dead so I might have a better life now and eternal life in heaven. Jesus, come into my heart and be my Lord and Savior. From this day forward, I'll live my life for You to the best of my ability. In Jesus' Name I pray, Amen.
Click Here if you need more information.