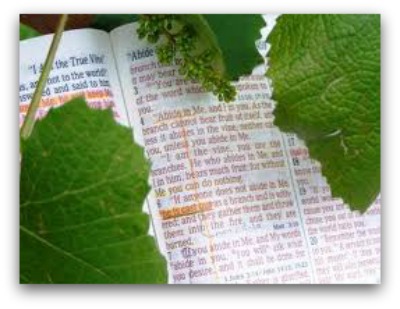 Abiding in Him
I am the vine, ye are the branches: He that abideth in me, and I in him,
the same bringeth forth much fruit: for without me ye can do nothing.
John 15:5 
When was the last time you used the word abide in conversation? It's an old-fashioned word. You just don't come across it other than in the Bible (or maybe Shakespeare). Because we don't use abide, it's easy for the significance of this word to fade from our awareness.

Abide means to steadfastly and continuously remain in place, to remain stable or fixed. Sometimes abide is used as synonym for where we make our home.

In 1 John 2:6 we are told that abiding in Jesus means living as He lived. 1 John 3:24 says if we obey Him, we abide in Him. 1 John 4:16 states that if we dwell in love (loving God and everybody, all the time) we abide in Him.

God wants us so be so intertwined with Christ that those who meet us cannot tell where the human ends and the divine begins. We must abide in love as Jesus did. When the disciples were self-seeking and striving, He did not chide them, but instead set an example for them. It can be so easy to judge others, but that is not what Jesus did. He walked in love.

In order to be like Jesus, we need to know Him and how he acted. What did Jesus do? He said "I do always those things that please Him (the Father)" (John 8:29). And also, "Of myself I am unable to do anything: as the voice comes to me so I give a decision: and my decision is right because I have no desire to do what is pleasing to myself, but only what is pleasing to him who sent me" (John 5:30).
In John 14:10, He says that He speaks not His own words, but the Father's. Jesus never murmured against God or talked about people who mistreated Him. He said, 'I judge no man.' He never criticized or found fault.

Jesus took the lowest place, even to the extent of washing other's feet. He was the Son of God yet called himself the Son of man. He did His Father's will knowing He would be be despised and rejected of men, knowing it would bring the sufferings of Gethsemane and Calvary upon Him, and knowing that God would forsake Him. Jesus' life of constant obedience, with no self-seeking or self-serving, pleased the Father, and this is the life we must live to abide in Him.

Following the pattern of the Bible, we end prayers "in the Name of Jesus." The significance of this practice goes far beyond the biblical way to end a prayer. "In the Name of Jesus" means to "put on the Lord Jesus" by thinking, speaking, acting and living as Jesus would were He in your place. By putting on Jesus, we are asking in prayer, just as He would.

John 14:13 says we are to ask in Jesus' name that the Father may be glorified. You cannot find one prayer of Jesus that was self-serving. His continual heart's desire was for the glory of the Father and for the extension of the kingdom. To ask "In the Name of Jesus" means to ask with the purpose of better glorifying God and advancing His kingdom. This is the abiding in Him that results in asking what we will and receiving it.Abiding requires an awareness of Jesus, His actions, attitudes, thoughts and prayers. Abiding requires constancy. Abiding brings us into oneness with God Himself and glorifies the Father.
Will you choose to abide in Him?  Now, that's the choice-driven life!
Today's Bible Reading: 
Lev 21-23; Heb 8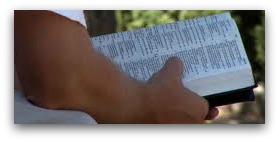 Click Here for your 5 Day Weekly Bible Reading plan!
Subscribe to our FREE Updates as soon as they are published and receive our FREE Report; Click Here
The Most Important Choice You Can Make:
Prayer for Salvation:
God in Heaven, I come to You in the name of Your Son, Jesus. I confess that I haven't lived my life for You. I believe that Jesus is the Son of God. I believe that He died on the cross and rose again from the dead so I might have a better life now and eternal life in heaven. Jesus, come into my heart and be my Lord and Savior. From this day forward, I'll live my life for You to the best of my ability. In Jesus' Name I pray, Amen.
Click Here if you need more information.