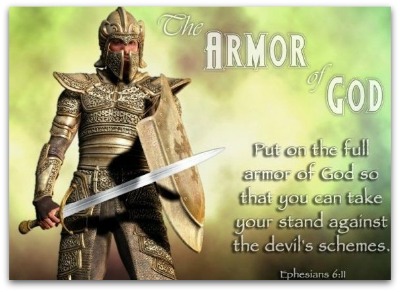 The Armour of God
Now thanks [be] unto God, which always causeth us to triumph in Christ
2 Corinthians 2:14

One of Satan's roles is "the accuser of the brethren." He energizes and equips deceiving demon powers to convince you that you are nothing and you are powerless against his assaults.
If you have had these thoughts, SNAP OUT OF IT! You have every weapon needed to overcome Satan's attacks. In fact, Ephesians 6:10 – 17 inventories the supernatural battle gear available to you. You also have the Name of Jesus and the Blood of Jesus. You have the Greater One living inside you. It is up to you to stay in the place of strength.
The Bible refers to us as soldiers. As a soldier, you need to shore up on the inside, using all the resources God has provided.
Our fight is against principalities, powers and the rulers of darkness, not flesh and blood. It is the principalities, powers and rulers of darkness that are set against the plan of God, not the flesh.
Verse 10 of Ephesians 6 starts with the word finally. In the Greek finally means that Paul has saved what follows for the end of his letter because it is of utmost importance. In earlier chapters, Paul has covered some deep and important points, but He wants to drive home the magnitude of being strong in the Lord by putting on the full armour of God. Why? Because we can have intellectual understanding of God's word and yet remain powerless against Satan's onslaughts unless we put on the armour and take up the sword.
The full armour of God in Ephesians 6:13 is the supernatural battle gear of God and we must keep reminding ourselves that it is our covering. We are to do all, to withstand all, and to stand (engage actively in battle).
Once the battle is won, we prepare for the next battle. During the period away from active engagement, we build ourselves up in the Word of God, cleaning and calibrating our weapons, and honing our skills for the future campaigns, just as any soldier would. Soldiers are to be ALWAYS prepared!
In verse 16 it says "above all taking the shield of faith that shall stop every fiery dart of the enemy." We have the weapons to stop every fiery dart. It says so right here. Why do we take up arms? In order to advance the ministry of the Gospel.
We are never to let our guard down, even when we have seen victory. We must continue to go after the uncircumcised Philistine as David did and never relent against the powers of darkness. 
Will you choose to put one hand to the plow and carry a sword in the other, just as they did while rebuilding the wall in Nehemiah's day?  Now, that's the choice-driven life!


Today's Bible Reading: 
Lev 12-14; Heb 5; Psalm 111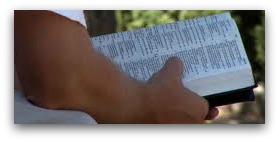 Click Here for your 5 Day Weekly Bible Reading plan!
Subscribe to our FREE Updates as soon as they are published and receive our FREE Report; Click Here
The Most Important Choice You Can Make:
Prayer for Salvation:
God in Heaven, I come to You in the name of Your Son, Jesus. I confess that I haven't lived my life for You. I believe that Jesus is the Son of God. I believe that He died on the cross and rose again from the dead so I might have a better life now and eternal life in heaven. Jesus, come into my heart and be my Lord and Savior. From this day forward, I'll live my life for You to the best of my ability. In Jesus' Name I pray, Amen.
Click Here if you need more information.