God is Preparing a Table Just for You 
The LORD is my shepherd; I have all that I need. He lets me rest in green meadows; He leads me beside peaceful streams. He renews my strength. He guides me along right paths, bringing honor to His name.
Even when I walk through the darkest valley, I will not be afraid, for You are close beside me. Your rod and Your staff protect and comfort me. You prepare a feast for me in the presence of my enemies. You honor me by anointing my head with oil. My cup overflows with blessings. Surely Your goodness and unfailing love will pursue me all the days of my life, and I will live in the house of the LORD forever. Psalm 23:1-6
 I want you to know that God is preparing your table. That's right. God is at work right now preparing a custom-made table just for you, and it's big. Everyone will see it. Yes, even the people in your life who bring you pain and wish you ill will see you at the table God has prepared for you. The same people who are determined to bring you down will be the very ones in whose presence God will bless you.
God will rub their faces in it. He will prepare a six-course meal for you right in front of them. He will bless you so much so that they will not be able to go anywhere without hearing about you or seeing your face. Everywhere they go, there you are, doing God's will and getting blessed. You see, obedience to God's Word will produce blessings in your life.

Now, of course, you are not trying to rub all those blessings in their faces, but God is. "Thou preparest a table before me in the presence of mine enemies." God will bless you in front of your enemies, and they won't be able to do a thing about it.

You can take your place at the table. Everyone will see that you are healed, delivered, and that you are victorious in every area of your life. Your enemies will be forced to acknowledge that someone is helping you. And then you can testify and tell them, "The Lord is my Shepherd; I don't need a thing."

The table the Lord is preparing for you could be your future spouse, your financial breakthrough, your maximum healing, or your family members coming to the Lord. For others, He is preparing restoration for their family, and blessings everywhere they go. It is up to you to make a choice to receive what He has for you.

God is not going to prepare your table in secret. It's going to be done in the presence of those who make fun of and ridiculed you with things like "You don't need to be doing all that church stuff, or why are you always at that church?"

Yes, there is a feast of the Lord going on. And you're invited. So just sit down and partake. You can eat whatever is there. Then God will give you more. He will feed you as long as you are willing to sit down and receive.

If you were like me and only heard Psalm 23 at funerals, then I hope that this little series has enlarged your image of the good Shepherd. Let me know by making a comment in the comment section.
Will you choose to to sit down and receive everything that He has for you? Now, that's the choice-driven life!
Today's Bible Reading: 
Exodus 35-37; Phil 4; Psalm 26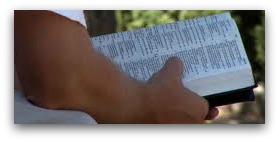 Click Here for your 5 Day Weekly Bible Reading plan!
Subscribe to our FREE Updates as soon as they are published and receive our FREE Report; Click Here
The Most Important Choice You Can Make:
Prayer for Salvation:
God in Heaven, I come to You in the name of Your Son, Jesus. I confess that I haven't lived my life for You. I believe that Jesus is the Son of God. I believe that He died on the cross and rose again from the dead so I might have a better life now and eternal life in heaven. Jesus, come into my heart and be my Lord and Savior. From this day forward, I'll live my life for You to the best of my ability. In Jesus' Name I pray, Amen.
Click Here if you need more information.