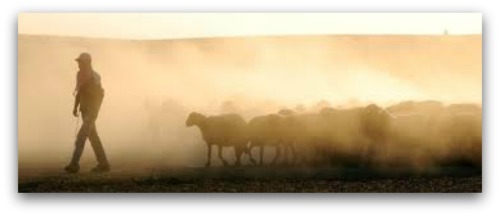 Are You Following The Shepherd?



  You have bedded me down in lush meadows, you find me quiet pools to drink from.
Psalm 23:2 Msg
The 23rd Psalm is a very comforting Psalm, in which David tells us that the Lord leads, feeds, guides and shields us. We can be confident that God will lead us in the path of righteousness, uprightness, and right standing with Him.

I believe that David is saying here that God leads each of us personally in the path that He has prepared us, a path that restores us in every way to the good God has for us. We as people are compared to sheep in this psalm.

Sheep are very passive and submissive by nature. Unlike donkeys, sheep are docile creatures. You see, a donkey has his own mind; he may come with you or he may not. You can beat him, pull on his harness, but that stubborn donkey may just sit down refusing to budge. He's not going to move until he gets good and ready or until he can see where he's going.

But sheep are different; they will follow the shepherd. They don't need to know where the shepherd is leading them because they have blind trust in the shepherd.

The Lord is your Shepherd. He wants to bring you to a place where you don't need anything, but this path requires you to trust Him even when you don't fully understand where you are going.

I remember the time when we wanted to move from The Netherlands to America. People around us really thought we were crazy. How would our kids, then 9 and 11, be able to adjust? Naysayers kept coming at us with one discouraging thought after the other. But the time came that we took action and followed where we felt God was leading us.

There comes the moment that you must put your trust in the Lord.

So we obeyed God, and went to Joplin, Missouri. Later, we we had to pack our bags again to move to Tulsa to attend VBI bible school. The better way is God's way. God's way will provide more blessings in your life than ever before. At that time, we found out that Tulsa was where our provision was.

There were also times in our life where our choices were not in alignment with what God wanted. You may be in a time of struggle, being tempted to withdraw from everybody and go your own way, but the Lord is always ready to bring you back and lead you by His mighty hand. Although you are facing a stressful situation, God leads you to safety as a shepherd does his sheep.

If you do what God wants and sincerely follow Him, you will get to that green pasture and be well-fed. God has a purpose for you and He's saying, "Just trust me." You must follow the will of God for your life.

Remember, you are His precious lamb.  Will you choose  to trust God when your mind tells you to go your own way is the key to receiving blessings in your life? Now, that's the choice-driven life!
Today's Bible Reading:
Exodus 22-24; Eph 6; Psalm 109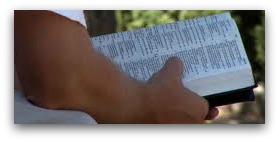 Click Here for your 5 Day Weekly Bible Reading plan!
Subscribe to our FREE Updates as soon as they are published and receive our FREE Report; Click Here
The Most Important Choice You Can Make:
Prayer for Salvation:
God in Heaven, I come to You in the name of Your Son, Jesus. I confess that I haven't lived my life for You. I believe that Jesus is the Son of God. I believe that He died on the cross and rose again from the dead so I might have a better life now and eternal life in heaven. Jesus, come into my heart and be my Lord and Savior. From this day forward, I'll live my life for You to the best of my ability. In Jesus' Name I pray, Amen.
Click Here if you need more information.