A Fail-Proof Way To Pray
For if I pray in tongues, my spirit is praying, but I don't understand what I am saying.
Well then, what shall I do? I will pray in the spirit, and I will also pray in words I understand.
I will sing in the spirit, and I will also sing in words I understand.
I Corinthians 14:14,15 (NLT)
Have you ever been praying and at the same time wondering if God was hearing you? Maybe you have tried to pray without knowing how to exactly express what is going on in your heart. We all have such moments.
You need not feel alone or be discouraged because there is a fail-proof way to pray that guarantees results every time. This fail-proof method is praying in the Spirit, also known as praying in tongues. This is an awesome spiritual practice for all of us to tap into because it enables us to pray the perfect prayer. It is also a tool of intercession. And it confuses the devil.
First of all, it is very important to understand that it is God who makes us able to pray in tongues. When we pray in tongues we directly communicate with God in a language that although we may not understand, God understands. Why? Because it is the Holy Spirit praying through us, perfectly expressing what our spirits want to communicate, need to communicate.
Praying in tongues is not to be confused with the gift of tongues, whereby a person prophesies in an unknown language. Such prophecies are usually public and require an interpretation so that the listeners are edified by it.
When you pray in the Spirit, it is just between you and the Father. You don't even need to know what you are saying, because you are praying in faith, trusting the Holy Spirit who prays through you to the Father. There is no need for interpretation because the prayer is between you and the Father. Although, you can ask the Father for the interpretation of what you just prayed. He may give you insight if He thinks it is something that you need to know.
The Bible also tells us that praying in the Spirit is a tool of intercession. Romans 8:26-28 says: "Likewise the Spirit also helpeth our infirmities: for we know not what we should pray for as we ought: but the Spirit itself maketh intercession for us with groanings which cannot be uttered. And he that searcheth the hearts knoweth what is the mind of the Spirit, because he maketh intercession for the saints according to the will of God. And we know that all things work together for good to them that love God, to them who are the called according to his purpose."
Many people misunderstand this passage. Religion has used it to justify that when bad things happen to people, it will always work out for good. I don't believe that bad things happen to you for God to teach you something; God is good and the devil is bad (John 10:10).
No, this scripture, taken in context, is referring to prayer and especially to praying in the spirit. The Holy Spirit knows the mind and the will of the Father and when He begins interceding in tongues, you pray the perfect will of God. Satan doesn't know what you are praying, so it's impossible for him to hinder your prayers.
Praying in the Spirit is the perfect way to pray because you can't pray contrary to the Father's will. Neither can fear, doubt, unbelief or your inability to express your needs stop your prayers from coming to pass. That's why the Apostle Paul says that all things work together for good to those who are called according to God's purpose—to those who pray the perfect will of God.
Will you choose tap into the powerful resource of praying in the Spirit? Now that's the choice-driven life!
Today's Bible Reading:
Daniel 1-3; John 17; Psalm 88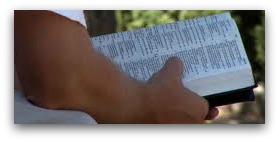 Click Here
for your 5 Day Weekly Bible Reading plan!
Subscribe to our FREE Updates as soon as they are published and receive our FREE Report; Click Here
The Most Important Choice You Can Make: Prayer for Salvation: God in Heaven, I come to You in the name of Your Son, Jesus. I confess that I haven't lived my life for You. I believe that Jesus is the Son of God. I believe that He died on the cross and rose again from the dead so I might have a better life now and eternal life in heaven. Jesus, come into my heart and be my Lord and Savior.
From this day forward, I'll live my life for You to the best of my ability. In Jesus' Name I pray, Amen.
Click Here
if you need more information.