Do You Need To Get Your Life in Order?
I appeal to you therefore, brothers, by the mercies of God, to present your bodies as a living sacrifice,
holy and acceptable to God, which is your spiritual worship. 
Do not be conformed to this world, but be transformed by the renewal of your mind,
that by testing you may discern what is the will of God, 
what is good and acceptable and perfect.
Romans 12:1-2 ESV
One of the key ways Christians are drawn into the world's systems is to allow our priorities to become aligned with those of the world around us. We accept the idea that we can ignore basic disciplines: eating nourishing foods, exercising our bodies, getting enough rest, and most importantly connecting with God. We follow the world's model: eating, working and sleeping on the run, with little or no time left for reflecting on our spiritual needs and seeking God.
We therefore suffer the consequences of neglecting our fellowship with our heavenly Father and His Word. We can experience frustration, confusion, and depression, sometimes to the point of hopelessness. The world's systems leave us feeling overwhelmed, weary and exhausted.
We sense that something is desperately wrong, but don't take the initiative to put things on hold and honestly examine what is going on in our life. We just don't seem to have time remaining for that, because the pace and demands of life continue to press us on all sides and we fear falling behind. We beat ourselves up, suffering from one perceived failure to the next.
All this because we haven't established the right priorities in our lives. It is time to slow down and put things into the proper perspective and in the right order. First things must come first.
We need to strengthen the most important relationship in our life, which is, of course, our relationship with God. Renewing our minds to God is the path to gaining victory over our weaknesses. If we had power to do it on our own, we would know the answers to all our problems, and wouldn't feel confused, depressed and overwhelmed.
If we continue to focus on doing the right things, as the world defines them, we will never get our lives in order. You see, "right actions" will not necessarily produce "right thinking," but "right thinking" will always produce "right actions." So, just how do we renew our minds? Only by aligning our minds to agree with what God says.
Romans 12:2 says, "…be not conformed to this world: but be ye transformed by the renewing of your mind, that ye may prove what is that good, and acceptable, and perfect will of God."
It is vital to renew our minds with the Word of God, in order to gain the right perspective of how to manage our own life, bringing all areas into their proper order. This is possible only by setting the right priorities: Beginning with "Seek first the Kingdom of God." When we do so, He assures us that our needs will be met.
Will you choose to align your priorities with God's Word? Now, that's the choice-driven life!
Today's Bible Reading:
Ezek 40-42; John 14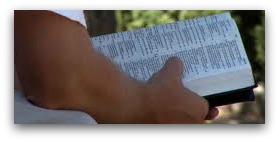 Click Here
for your 5 Day Weekly Bible Reading plan!
Subscribe to our FREE Updates as soon as they are published and receive our FREE Report; Click Here
The Most Important Choice You Can Make: Prayer for Salvation: God in Heaven, I come to You in the name of Your Son, Jesus. I confess that I haven't lived my life for You. I believe that Jesus is the Son of God. I believe that He died on the cross and rose again from the dead so I might have a better life now and eternal life in heaven. Jesus, come into my heart and be my Lord and Savior.
From this day forward, I'll live my life for You to the best of my ability. In Jesus' Name I pray, Amen.
Click Here
if you need more information.