God Desires For You to Be Whole
Don't fret or worry. Instead of worrying, pray. Let petitions and praises shape your worries into prayers, letting God know your concerns. Before you know it, a sense of God's wholeness, everything coming together for good, will come and settle you down. It's wonderful what happens when Christ displaces worry at the center of your life.
Philippians 4:6,7 MSG
Many think that anything tied to our emotions is bad. God created us as emotional beings, so our capacity for emotions is not bad. But Satan knows how to manipulate our feelings, perverting something that is meant to function for our good and using it for our harm.
He began in the Garden of Eden where he showed himself as a serpent. He targeted Adam and Eve and began influencing them through their minds and emotions. His sole purpose was to destroy their trust in God and everything that was promised to them.
Satan hasn't changed one bit. He uses the same tactics today. He has only one method of operation and that is trying to our attention from God, our source. He begins in the battlefield of our minds planting negative thoughts. Left unchallenged, negative thoughts set up a cycle of negative emotions leading to more negative thoughts.
When we are hurt, we experience negative emotions that can rob us of our sense of security in being loved by God. Because of feelings of hurt, our mind often becomes engaged in negative thoughts. We may find it difficult to believe what God says about us and what he created us to be. And that leaves us without the things that He says we have, and thus without our hope.
Now, here's the challenge for some Christians: They know the hazards of negativity and so choose to put up a good front, showing themselves as strong to those around them, but never dealing with lingering pain. They try to cope by minimizing or ignoring their discomfort. It's not that they're trying to deceive those around them. They are trying to deceive themselves.
Minimizing or ignoring hurt and pain never works. The true condition of our hearts will eventually surface and it often does so in a way that causes hurt to others.
What are we to do? God has given us authority over our mind, will, emotions and our hurt and everything that the enemy brings our way. And we certainly don't need to hide from God. God wants us to come out of hiding and be totally open with Him about what we're really feeling, so that He can touch us with His mighty hand.
Of course we will fall short at times, but we don't need to give the enemy a foothold. With God's help we can come to the point that we don't need to feed the hurt: we can stop the thought, stop the cycle.
Will you choose to allow Christ to displace those destructive negative emotions and make you emotionally whole? Now that's the choice-driven life!
Today's Bible Reading:
Ezek 34-36; John 12; Psalm 86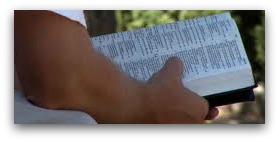 Click Here
for your 5 Day Weekly Bible Reading plan!
Subscribe to our FREE Updates as soon as they are published and receive our FREE Report; Click Here
The Most Important Choice You Can Make: Prayer for Salvation: God in Heaven, I come to You in the name of Your Son, Jesus. I confess that I haven't lived my life for You. I believe that Jesus is the Son of God. I believe that He died on the cross and rose again from the dead so I might have a better life now and eternal life in heaven. Jesus, come into my heart and be my Lord and Savior.
From this day forward, I'll live my life for You to the best of my ability. In Jesus' Name I pray, Amen.
Click Here
if you need more information.