Yes You Can Improve The Quality of Your Life
In every thing give thanks: for this is the will of God in Christ Jesus concerning you.
I Thessalonians 5:18
Have you ever felt impatient with God, wondering why your hopes and dreams are not coming to pass more quickly? If so, you may want to examine yourself to see if you have a grateful heart. Ingratitude is pervasive in the modern world and it is a major way that we repel God's blessings!
Gratitude toward God will improve the quality of your life more than anything else, quickly bringing it to a higher level. Gratitude toward God will improve the quality of your life more than anything else,
There are people that look at a rose bush and only complain about its thorns, while others exult in the beautiful flowers. It all depends on one's perspective.
If you want to find joy, you must first find thankfulness: when you are thankful for even the small things, you experience much joy. Equally true is that if you are constantly complaining, failing to appreciate the small things, you will self impose misery. It is a matter of choice of perspective.
Perhaps the worst enemy we have is not the devil but our own tongues. James tells us, "The tongue is set among our members as that which . . . sets on fire the course of our life" (James 3:6). He goes on to say this fire is ignited by hell. Think about that for a minute: our own words can bring us into the heavenly realms or into the misery and agony of hell. This applies to many things but especially to voicing complaint and ingratitude.
Paul comments on this thought in 1 Corinthians 10:10, where he reminds us of the Jews who "grumble[d] . . . and were destroyed by the destroyer." It is a fact that every time we start grumbling and complaining, we open ourselves up to the destroyer of our lives and consequently diminish the quality of our lives.
Who was this destroyer that Paul speaks of? The destroyer is one of the most powerful spirits mentioned in the Bible, Abaddon, whose Greek name is Apollyon, which means "destroyer" (Rev. 9:11). Paul said this spirit destroyed the Jews. In other words, when we complain and are ungrateful, we open the door to the destroyer, Abaddon, the demon king over the abyss of hell!
What a stark contrast to the life of joy that comes from being grateful! Most of us need to repent of some level of ingratitude. We must forgive what happened in the past and begin expressing gratitude for that which is right – right in front of us today.
Our circumstances must not govern our gratitude. The minute we begin to thank God, we change and when we change, our circumstances change. A thankful heart unlocks the gates of heaven.
Will you choose to improve the quality of your life by giving thanks? Now, that's the choice driven life!
Today's Bible Reading:
Ezekiel 31-33; John 11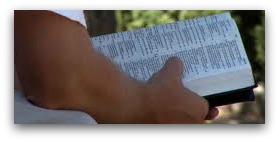 Click Here
for your 5 Day Weekly Bible Reading plan!
Subscribe to our FREE Updates as soon as they are published and receive our FREE Report; Click Here
The Most Important Choice You Can Make: Prayer for Salvation: God in Heaven, I come to You in the name of Your Son, Jesus. I confess that I haven't lived my life for You. I believe that Jesus is the Son of God. I believe that He died on the cross and rose again from the dead so I might have a better life now and eternal life in heaven. Jesus, come into my heart and be my Lord and Savior.
From this day forward, I'll live my life for You to the best of my ability. In Jesus' Name I pray, Amen.
Click Here
if you need more information.