Pleasing God is Our Highest Priority
"And He that hath sent me is with me: the Father hath not left me alone; 
for I do always those things that please Him."
John 8:29
Many Believers assume that the only thing they need to do to please God is to become born again. If our goal is to live a life pleasing to God, the first commandment, with promise is to "love the Lord with all thine heart, and with all thy soul, and with all thy might" (Deuteronomy 6:5). There is a difference between pleasing God because we accepted Jesus as Lord over our lives and pleasing God with everything that we do and say.
God's plans are higher than our plans, which means that the Creator of the Universe, knows a better way, a higher way than is obvious to us. And He calls us to enlarge our lives and our relationship with Him by walking in His ways. As we come to know Jesus more intimately, we will inevitably cultivate a lifestyle that is pleasing to Him, that brings glory to Him. People don't see Jesus in our being good rule followers. But they do recognize His grace upon us.
God's grace gives us the ability to accomplish things that we are not able to do in our own flesh. The more we yield to His grace, the more grace we receive. Grace was never given as a license for sin or for spiritual laziness. Grace is the way to overcome every sin that deceives and tempts us. So, through grace we are able to please God through everything that we do and say. We are no longer under the dominion of sin and need not yield to temptation. Through grace we resist the devil and he must flee from us. But does our availing ourselves of His grace make Him love us more than He already does?
We need to realize that there is nothing we can do to make God love us more or less. In John 17:23 Jesus declares, "I in them, and thou in me, that they may be made perfect in one; and that the world may know that thou hast sent me, and hast loved them, as thou hast loved me." Jesus said that the Father loves us as much as He loves Jesus!
And yet, displeasing God through our behavior and lifestyle is possible. God's pleasure with us is not unconditional, as His love is. We must make a choice to please God through our obedience to His Word, out of reverence and honor for Him.
We are moved by how much He loves us and how much He cares for us to the extent we align our lives with His Word. When we do that, we please Him.
When we make those quality choices pleasing to Him, we enjoy many blessings. In addition to the pleasure of being obedient, we position ourselves to receive all His blessings on this earth. Above all it also ensures that we have crowns to lay at Jesus' feet when we get to heaven.
You and I will stand before the Lord one day and give an account of the things we did in our bodies while on the earth (2 Corinthians 5:10). For this reason, we must make sure that we build our lives upon the foundation of God's Word and not the fashions of this world.
God wants each and every one of us to receive everything that He has for us, both on earth and in heaven. A wise pastor once said: "What we do with the Cross determines where we spend eternity, but how we live our lives determines how we spend eternity." Personally, I thought that was very powerful: think about it!
Will you make the choice to walk in the grace to please God in everything that you do and in everything that you say? Now, that's the choice-driven life!
Today's Bible Reading:
Ezek 19-21; John 7; Psalm 84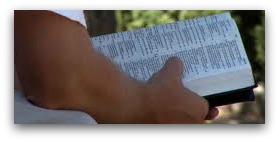 Click Here
for your 5 Day Weekly Bible Reading plan!
Subscribe to our FREE Updates as soon as they are published and receive our FREE Report; Click Here
The Most Important Choice You Can Make: Prayer for Salvation: God in Heaven, I come to You in the name of Your Son, Jesus. I confess that I haven't lived my life for You. I believe that Jesus is the Son of God. I believe that He died on the cross and rose again from the dead so I might have a better life now and eternal life in heaven. Jesus, come into my heart and be my Lord and Savior.
From this day forward, I'll live my life for You to the best of my ability. In Jesus' Name I pray, Amen.
Click Here
if you need more information.