The Four Battlegrounds of Faith
… without faith it is impossible to please God, because anyone who comes to him must
believe that he exists and that he rewards those who earnestly seek him.
Hebrews 11:6 (NIV)

Satan can and will attack your faith. He knows that if he undermines your faith, it makes it impossible to please God. Now, it would be good for you to know when, where and how the attack is coming, so that you can immediately recognize it and defend yourself with the armor that God has given to you.
Here are four battlegrounds of faith:
1. What we hear
Romans 10:17 tells us: "Faith cometh by hearing, and hearing by the Word of God." You need to manage what enters your hearing. The enemy will attempt to weaken your faith by pulling you toward the opinions of the world and away from the Word of God. The more closely we align with the opinions of the world, the more difficult it is to believe what the Word of God says over our particular situation.
We must bring quality material in through our ear gates by choosing to hear sermons at a Bible-teaching church, listening to CDs and DVDs, hearing ourselves speak the Word of God over our own lives and situations on a daily basis.
2. What we think
There is a constant battle over our thoughts. Hebrews 11:1 says, "Now faith is the substance of things hoped for, the evidence of things not seen."
When we hope for something, we have confidence that it is going to happen, so we can say that faith is the substance of the things that we confidently hope for.
Hope is what we experience when we hear the Word of God preached. Thus we focus on and think on those things of hope. The Holy Spirit and the Word of God will always be in agreement to help us understand the vision of hope that is set before us – the expectation of what God has for us.
3. What we speak
The world was created by the faith-filled words that God spoke. We are created in His image and have been given the authority to operate in the name (authority) of Jesus. We can take dominion over the things on this earth. When we speak words of faith from a pure heart, we are framing our own world and will see those things come to pass in the future.
4. What we do
James 2:20 unmistakably states, "Faith without works is dead." We can be winning on the first three battlefields of the fight of faith and still lose the war if we fail to take action.
You may have heard so much Word that your heart is filled with faith and you can believe that your vision will come to pass. You can be speaking according to what is in your heart, but if you take no corresponding action, nothing will happen.
It all works together: you need to hear the Word of God to establish what you believe. Then you need to renew your mind by bringing every thought contrary to God's will into captivity. Next, you speak words of faith that will put substance to the vision you are confidently expecting. And finally, you must add corresponding actions to what you believe, what you think, and what you say.
Fighting on all four battlegrounds of faith is a very fundamental process. Will you do it?
Will you choose to fight the good fight of faith on all four fronts? Now, that's the choice-driven life!
Today's Bible Reading:
Ezek 4-6; John 2; Psalm 82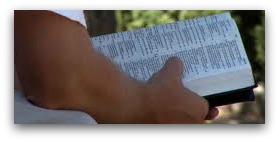 Click Here
for your 5 Day Weekly Bible Reading plan!
Subscribe to our FREE Updates as soon as they are published and receive our FREE Report; Click Here
The Most Important Choice You Can Make: Prayer for Salvation: God in Heaven, I come to You in the name of Your Son, Jesus. I confess that I haven't lived my life for You. I believe that Jesus is the Son of God. I believe that He died on the cross and rose again from the dead so I might have a better life now and eternal life in heaven. Jesus, come into my heart and be my Lord and Savior.
From this day forward, I'll live my life for You to the best of my ability. In Jesus' Name I pray, Amen.
Click Here
if you need more information.