Are You Showing Off What You've Got?
Charm is deceitful and beauty is passing, but a woman who fears the Lord, she shall be praised.
Proverbs 31:30

In today's society, fashion designers and media encourage girls and women to dress in a way that reveals or flaunts their figures. The world cultivates the desire to emulate the images of beautiful, sexy, women seen in magazines, on TV, or in movies. Many Christian girls and women seem to think that church is a place to "show what they've got."
The media and fashion promote being in style, cool, accepted, and even admired by wearing what they are selling. And because many Christian girls and women are not secure in themselves and in their identity in Jesus Christ, they accept the world's thinking and influence as the norm.
The consequences of being influenced by the world's way of thinking are huge. There are many Christians who choose to ignore restraint and thus demoralize themselves or others. One of the consequences of dressing provocatively is that lust is incited in the opposite sex. Often this is not the intent of the woman wearing the clothing – she may just want to look stylish. But when advised to dress more modestly, she may become offended or claim that such concerns are too legalistic.
Restraint is not legalism. Restraint is what Jesus refers to as "denying yourself" (Luke 9:23). He said if anyone would come after Him and be a follower of Him, they would have to restrain and deny themselves.
The spirit of lust is rampant in the world and the world's way of thinking feeds the lust of the flesh. The flesh says, "I hate boundaries and restraints." Following Jesus means that you choose to obey His words and promptings instead of being conformed to the world's thinking and its ways.
Paul wrote in Galatians 5:16 that if we'll walk by the leading of the Holy Spirit, we won't fulfil the lust of the flesh. Romans 12:2 says, "Don't copy the behavior and customs of this world…" Romans 14:13 says, "Try instead to live in such a way that you will never make your brother stumble by letting him see you doing something he thinks is wrong" (TLB). Or one might also say by allowing one's lack of restraint to incite lust in another.
"Showing off what you've got" may get you some attention at the moment, but committed and sustained relationships aren't based on your physical body and appearance. Shallow and physical relationships likely won't last and will lead to regret.
Will you choose to exercise Godly restraint and honour God, yourself and others? Now, that's the choice-driven life!
Today's Bible Reading:
Jer 43, 44, 46; 2 Pet 1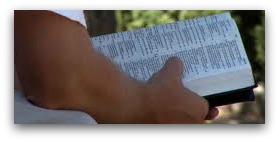 Click Here
for your 5 Day Weekly Bible Reading plan!
Subscribe to our FREE Updates as soon as they are published and receive our FREE Report; Click Here
The Most Important Choice You Can Make: Prayer for Salvation: God in Heaven, I come to You in the name of Your Son, Jesus. I confess that I haven't lived my life for You. I believe that Jesus is the Son of God. I believe that He died on the cross and rose again from the dead so I might have a better life now and eternal life in heaven. Jesus, come into my heart and be my Lord and Savior.
From this day forward, I'll live my life for You to the best of my ability. In Jesus' Name I pray, Amen.
Click Here
if you need more information.