Your Future Looks Bright
Arise, shine; for thy light is come, and the glory of the LORD is risen upon thee.
Isaiah 60:1
I remember a great man of God, Kenneth E. Hagin, saying: "If the devil can get you under condemnation he can cheat you out of your inheritance." Righteousness, your right standing with God, is one of the most important things for you to understand and live by every day of your life.
There are so many people who live with guilt and shame, feeling depressed about the things they have done. Perhaps you, too, live with unrelenting feelings of guilt. This is your day to rise up in happiness. Read Psalm 32:1-11 and begin rejoicing in the Lord, and shouting for joy because your heart is made pure.
Receive the revelation of your righteousness before God as you declare, "I'm free from a sense of sin or guilt or inferiority. I've been made the righteousness of God in Christ."
God has shown us the way to be made right with Him apart from perfectly keeping the requirements of the law. He has made us acceptable to Himself. The righteousness of God is now manifested apart from the law (Romans 3:21).
Nothing matters except your faith in Jesus. If you accept Jesus as your Saviour, God declares you righteous (Romans 3:23). We all have sinned and come short of the glory of God. Yet, also we all have been given the opportunity to receive Jesus as Lord and be counted as righteous before God.
When we accept Jesus, the mercy of God moves on our behalf. And then through His grace, God makes available His divine prosperity, His divine healing, His divine blessing in every area of life. God showers us with blessing upon blessing, because He sees us as being righteous – in right standing with Him – through the shed blood of Jesus.
The Blood of Jesus is always effective and in operation. It protects us, heals us and causes us to prosper. Fear has no place in our lives, because of our faith in the perfected work of the Blood.
We are a people without a burdensome past. The blood of Jesus bought us a bright future. The glory of the LORD has risen upon us. We have been declared righteous by God Almighty.
Will you choose to see yourself as one of the righteous of the LORD? Now, that's the choice-driven life!
Today's Bible Reading:
Jer 8-10; 2 Cor 11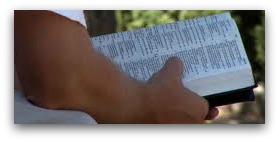 Click Here
for your 5 Day Weekly Bible Reading plan!
Subscribe to our FREE Updates as soon as they are published and receive our FREE Report; Click Here
The Most Important Choice You Can Make: Prayer for Salvation: God in Heaven, I come to You in the name of Your Son, Jesus. I confess that I haven't lived my life for You. I believe that Jesus is the Son of God. I believe that He died on the cross and rose again from the dead so I might have a better life now and eternal life in heaven. Jesus, come into my heart and be my Lord and Savior.
From this day forward, I'll live my life for You to the best of my ability. In Jesus' Name I pray, Amen.
Click Here
if you need more information.