Have You Received The Holy Spirit Since You Believed?
And because we are His children, God has sent the Spirit of his Son into our hearts,
prompting us to call out, "Abba, Father."
Galatians 4:6 (NLT)
The Holy Spirit may be the least understood of all of the persons of the Trinity. YES, He is a person.
Some believe you receive a full measure of the Holy Spirit when you are born again. Others teach that there is a baptism of the Holy Spirit that brings an additional measure of the Holy Spirit.
Have you ever given this any thought? Do you believe that you have received the fullest measure of the Holy Spirit? Let's see what the Bible has to say.
Without a doubt the Bible teaches us that a person receives a measure of the Holy Spirit at the moment he or she becomes born again. This is borne out by the Holy Spirit's role in drawing us to God and sanctifying us at the time of our salvation. It is the Holy Spirit who sets us apart for God.
In Acts 8:5, the apostle Philip went to Samaria and preached and many people were born again. As we read further to verses 14-16, the Bible says that when the apostles in Jerusalem received the report that Samaria had accepted God's Message, they sent Peter and John down to pray for them to receive the Holy Spirit, because up to this point they had only been baptized in the name of the Master Jesus; the Holy Spirit hadn't yet fallen on them. (Acts 8:14-16).
This is clear biblical evidence that the apostles at Jerusalem believed that there was an additional fullness of the Holy Spirit to be received after being born again. These Samaritans were clearly born again and yet "the Holy Spirit had not yet come upon any of them." But did this only occur with the Samaritan believers? Later in the book of Acts, Paul speaks with new believers about receiving the Holy Spirit.
In Acts 19, while in Ephesus, Paul meets some new Christian believers. These people had been born again through the ministry of Apollos. The first thing Paul said to the new believers was, "Did you receive the Holy Spirit when you believed? Did you take God into your mind only, or did you also embrace him with your heart? Did he get inside you?" The new believers replied, "We've never even heard of that–a Holy Spirit? God within us?" (Acts 19:1-2).
Here you can see that Paul asked these twelve believers if they have received the Holy Spirit. Obviously Paul considered receiving the Holy Spirit upon salvation and receiving the fullness of the Holy Spirit separate and distinct experiences! You can also read this in Acts 2:4, Acts 8:5, Acts 8:14 and Acts 19:1.
Yes, a measure of the Holy Spirit has been given to every believer. But why stop there when so much more is available? There is a fullness of the Holy Spirit that is available for every believer and it opens a reservoir of power that is not available to us any other way.
Many people still think that they must "tarry" to receive this gift, but that is not true. Tarry in this context means to wait and involves pleading with God for the manifestation of the Holy Spirit. The command to "tarry" was a one-time event when Jesus went up to heaven and told the apostles to "tarry" in Jerusalem until the Holy Spirit would be poured out upon them.
You don't need to beg God for the gift he has freely provided. Simply "ask and it shall be given you" (Matt. 7:7). So, if you desire the fullness of the Holy Spirit, there is no tarrying involved. Jesus said, "Just ask."
Will you choose to receive a fuller measure of the Holy Spirit? Now that's the choice-driven life!
For more information click here.
Today's Bible Reading:
Habakkuk; 2 Cor 7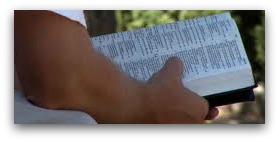 Click Here
for your 5 Day Weekly Bible Reading plan!
Subscribe to our FREE Updates as soon as they are published and receive our FREE Report; Click Here
The Most Important Choice You Can Make: Prayer for Salvation: God in Heaven, I come to You in the name of Your Son, Jesus. I confess that I haven't lived my life for You. I believe that Jesus is the Son of God. I believe that He died on the cross and rose again from the dead so I might have a better life now and eternal life in heaven. Jesus, come into my heart and be my Lord and Savior.
From this day forward, I'll live my life for You to the best of my ability. In Jesus' Name I pray, Amen.
Click Here
if you need more information.