Peace In the Midst of Troubled Times
But the fruit of the Spirit is…peace…
Galatians 5:22
Many people equate peace with an emotion. It is as if peace were something outside of them, a feeling that can come and go based on their circumstances. But the Bible tells us that peace is a fruit of the spirit and is to be developed.
Peace is necessary if we desire to live in the fullness of the Spirit of God. True peace prevents our hearts from being overcome by worries and troubles. It is certain that there are some troubling and worrisome things that we can't do much about.
In Matthew 24:6 Jesus said that certain things must happen. In verse 7, Jesus goes on to say "Nation will fight nation and ruler fight ruler, over and over. Famines and earthquakes will occur in various places." Luke 21:26 tells us that people will be terrified at what they see coming upon the earth, for the powers in the heavens will be shaken.
Without the "peace that passes all understanding" we will fall prey to fear in the unsettling times that are to come. I know one thing: I prefer to avoid experiencing that kind of fear. I want to be grounded in peace.
Matthew 24:8 (AMP) tells us that the world's disruption is but the beginning [the early pains] of the birth pangs [of the intolerable anguish]. He also told us that these happenings are the beginning of the travail of the earth.
Jesus compared this time on earth to a woman who is in labor and experiencing pain before her child is born. This earth must also experience pain—the pain of earthquakes, famines, pestilences, and fearful sights—before it can give birth to the tribulation.
A woman in travail knows that as the pains become closer together and more intense, her child is about to be birthed. The same is true of the travail of the earth. For as the birth pangs described in Luke 21:10,11 occur more frequently and with greater intensity, we can be assured that the earth is about to be delivered.
As we watch the evening news we see the events described by Jesus taking place across the globe: birth pangs that are intensifying to a much greater degree than ever before in history.
As believers we must take the time to sit quietly at the feet of Jesus, our Prince of Peace. He is faithful to calm and comfort us so that we may hear the words He has especially for us. He is faithful to impart that true peace for us to receive, embrace, and develop.
Will you choose to develop the fruit of peace? Now that's the choice-driven life!
Today's Bible Reading:
2 Chr 34-35; 2 Cor 6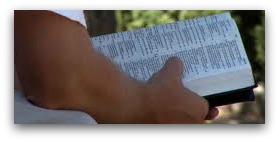 Click Here
for your 5 Day Weekly Bible Reading plan!
Subscribe to our FREE Updates as soon as they are published and receive our FREE Report; Click Here
The Most Important Choice You Can Make: Prayer for Salvation: God in Heaven, I come to You in the name of Your Son, Jesus. I confess that I haven't lived my life for You. I believe that Jesus is the Son of God. I believe that He died on the cross and rose again from the dead so I might have a better life now and eternal life in heaven. Jesus, come into my heart and be my Lord and Savior.
From this day forward, I'll live my life for You to the best of my ability. In Jesus' Name I pray, Amen.
Click Here
if you need more information.