Changed From The Inside Out
And yet, O LORD, you are our Father. We are the clay, and you are the potter.
We all are formed by your hand.
Isaiah 64:8 (NLT)

Perhaps you desire to be a better parent or a better spouse; a better employee, or even a better Christian. So what do you typically do when you want to grow or progress in a particular area?
If you're truly serious, you may begin to get more involved in your church, confess scriptures, read relevant books, or attend workshop and conferences in your particular pursuit. All these are of value and can be good for affecting the change you desire. But the key element needed when we really want to change is spending time in the presence of God.
When the Spirit of God comes upon us, we will "be changed into a different person" (1 Samuel 10:6). By reading and studying God's Word, we come to know about God. But it's only by spending time in His presence that we come know God, Himself. So how can we make sure that we are coming into God's presence instead of acquiring knowledge of Him? I believe that the difference lies in how we approach hearing the Word of God. Let me explain.
Romans 12:1,2 tells us to not conform to the pattern of this world, which is our culture. Instead, we are to fix our attention on God. Giving God our highest attention renews our minds and we are transformed from the inside out. The culture around us will always try to drag us down to its level of immaturity. But God brings out the best in us, transforming us and bringing about well-formed maturity.
If you are conformed to the pattern of this world and try to impose change, it's like squeezing a tennis ball. As you impose change or "squeeze," the shape of the ball conforms to the pressure of your hand. But as the pressure is released, the tennis ball returns to its original shape.
That's what happens when we hear a great sermon on Sunday, say "amen," and determine that we will change. Then as soon as we leave church, all those desired changes decrease in priority. Like the tennis ball, we return to our original state, without experiencing the change that we wanted so much while hearing God's Word preached.
Now, if you hold a ball of Play-Doh and squeeze it, the Play-Doh will also respond according to the pressure of your grip. But this time, as the pressure is released, the Play-Doh has been transformed into a new shape. And that form remains after the pressure is released. In much the same way, spending time in the presence of the Lord allows the Spirit of God to transform us into a new person. As we go out into the world and face its challenges, we have been changed into a different person, just as Samuel was. If we truly desire change, this is the path to lasting change.
How do you approach hearing the Word of God? Are you like Play-Doh, renewing your mind and being transformed by the Word? That is the big difference of knowing about God and developing a relationship with Him. So choose to go beyond recognizing what needs to be changed.
Will you choose to become as clay (or Play-Doh) in the hands of the Great Potter and allow him to transform you from the inside out? Now, that's the choice-driven life!
Today's Bible Reading:
 Isa 64-66; 2 Cor 2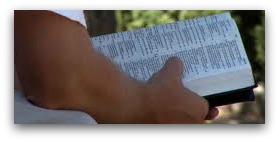 Click Here
for your 5 Day Weekly Bible Reading plan!
Subscribe to our FREE Updates as soon as they are published and receive our FREE Report; Click Here
The Most Important Choice You Can Make: Prayer for Salvation: God in Heaven, I come to You in the name of Your Son, Jesus. I confess that I haven't lived my life for You. I believe that Jesus is the Son of God. I believe that He died on the cross and rose again from the dead so I might have a better life now and eternal life in heaven. Jesus, come into my heart and be my Lord and Savior.
From this day forward, I'll live my life for You to the best of my ability. In Jesus' Name I pray, Amen.
Click Here
if you need more information.