What's Your Purpose?
The LORD will fulfill His purpose for me…
Psalm 138:8a
For we are His workmanship, created in Christ Jesus unto good works,
which God hath before ordained that we should walk in them.
Ephesians 2:10
Why are you here? I don't mean why are you reading these words at this moment. No, I am asking why are you here on this planet at this time, born into the family you were born into, with your unique gifts and talents, with your experiences. There is indeed a reason you are here. It's your purpose. Some call it your mission. We all have one. Our job is to discover what it is and live it.
At one time I worked as a network marketing distributor. I remember having feelings of deep dissatisfaction with this particular job. Because I was quite good at working with people, everyone around me assumed I was happy and purposeful. But deep down, I knew something was off. Life can have all the external signs of success, but if there is no alignment between what you are accomplishing and your purpose, you'll feel a black hole – an empty place in your soul that desires true fulfillment. That true fulfillment comes from knowing you are pursuing your unique purpose.
While counselling with one of my best friends about her life's mission, this question came to me: "How is someone's life better when they cross your path? " She immediately and enthusiastically replied, "Well, I feel like I can help people to get their focus back on God when they are depressed or feeling down for some reason." There was her crystal clear answer. She spontaneously articulated her purpose. Over the years, this powerful question has helped many other people to quickly identify their purpose in life.
Without a lot of introspection and pondering, answer this question for yourself: How is someone's life better when they cross your path?
We are all here for a reason. If we follow our purpose we will leave others in some way better than they would otherwise have been without us. The fun part is that we get to accomplish our purpose using our God-given uniqueness – our gifts, strengths, passion and experiences. While you are likely not the only person in the world with your particular mission or purpose, you are the only one who can accomplish it the way you can. There are people you are uniquely equipped to impact. They connect with you. You influence them. With whom will you connect and live out your purpose today?
If you have trouble answering ?How is someone's life better when they cross your path?", chat with the people in your life who know you best. Sometimes your impact comes so easily to you that it's difficult for you to recognize. But the people whom you are influencing will know. You will be sure of your purpose!
Will you choose to discover and pursue your purpose? Now, that's the choice-driven life!
Today's Bible Reading: 
Isa 49-52; 1 Cor 14; Psalm 69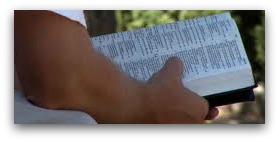 Click Here
for your 5 Day Weekly Bible Reading plan!
Subscribe to our FREE Updates as soon as they are published and receive our FREE Report; Click Here
The Most Important Choice You Can Make: Prayer for Salvation: God in Heaven, I come to You in the name of Your Son, Jesus. I confess that I haven't lived my life for You. I believe that Jesus is the Son of God. I believe that He died on the cross and rose again from the dead so I might have a better life now and eternal life in heaven. Jesus, come into my heart and be my Lord and Savior.
From this day forward, I'll live my life for You to the best of my ability. In Jesus' Name I pray, Amen.
Click Here
if you need more information.