Who Do You Trust First?
That we should be to the praise of his glory, who first trusted in Christ.
Ephesians 1:12
The original Greek word for trust, proelpizo, means "to hope before" or "to rest hopefully in a person or thing before it is proved."
When you want to please God and live the life that you were born to live, you must make a choice to trust Him before you get up in the morning. Then continue to choose to trust Him through the day. No matter how difficult or desperate your situation, choose to trust Him to see you through to victory.
Our lives will drastically change when we trust God first at all times. It will cause us to live our lives with meaning. People around us will notice the difference and be touched by it.
Being born again is more than having all your sins forgiven and going to Heaven. Being born again means that we belong to Jesus forever. Our lives belong to Him and He belongs to us. We don't look to others for our answers. There is no one but Christ whom we need to totally trust: not the news media, not our families, friends or neighbors. Not even other Believers for they are human and subject to their own cares and worries. Our trust, our hopeful rest, is in Christ alone.
When you trust other things in this world more than you trust Jesus, it becomes difficult to perceive the Lord's love for you and to receive His blessings you in your life.
When you put God first and trust in Him, you won't have to compromise your beliefs or moral standards to have friends, find a mate, or live a valuable and happy life. When you live a godly life you will draw others who also do the same. You will also draw people who may desire to live a godly life.
One area that can be a great temptation is to become involved with unbelievers to the point that we rely on them and trust them over Christ. For this reason, I advise against becoming romantically involved with an unbelieving person. A romantic or marital relationship is so key that is should be reserved for another Believer. There is nothing wrong with having friendships with unbelievers—as long as you trust in Christ first and keep Him number one in your life. Then you can be influential in their lives.
Let's take a look at our priorities right now! His mercies are new every morning! Examine yourself today. Ask the Holy Spirit to reveal any hypocrisy or self-deception, pride, or arrogance – areas in which you may trust anyone or anything more than you trust (rest hopefully) in Christ. Decide today and in the days to come, that Jesus is the first person you will look to for guidance, help and comfort. When you establish this simple priority, to trust Him first and fully, you will find yourself living a life that has meaning.
Will you choose to rest hopefully in Christ? Now, that's the choice-driven life!
Today's Bible Reading: 
Isa 41-44; 1 Cor 12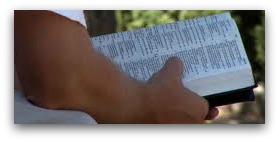 Click Here
for your 5 Day Weekly Bible Reading plan!
Subscribe to our FREE Updates as soon as they are published and receive our FREE Report; Click Here
The Most Important Choice You Can Make: Prayer for Salvation: God in Heaven, I come to You in the name of Your Son, Jesus. I confess that I haven't lived my life for You. I believe that Jesus is the Son of God. I believe that He died on the cross and rose again from the dead so I might have a better life now and eternal life in heaven. Jesus, come into my heart and be my Lord and Savior.
From this day forward, I'll live my life for You to the best of my ability. In Jesus' Name I pray, Amen.
Click Here
if you need more information.