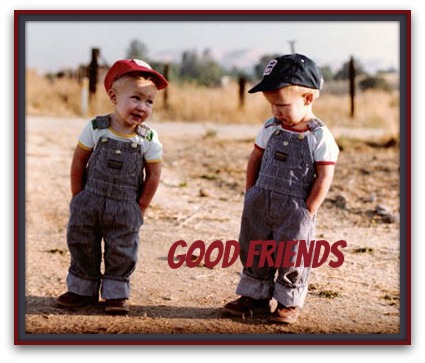 We All Desire a Loyal Friend
"And it came to pass…that the soul of Jonathan was knit with the soul of David, and Jonathan loved him as
his own soul…. Then Jonathan and David made a covenant, because he loved him as his own soul." 
1 Samuel 18:1-3
The friendship of David and Jonathan is a wonderful example of the love and loyalty between two friends. Jonathan's own father, King Saul, was trying to kill David who had been anointed to take Saul's place as King of Israel. But Jonathan alerted David of his father's wicked plot, remaining devoted to their covenant of friendship. By doing so, Jonathan forfeited his legal right to Saul's throne.
Jonathan was a man who took his covenant promise and friendship seriously. By doing so he saved David's life and prepared the way for David to take his rightful place as God's chosen king.
The values of loyalty, dependability and trust demonstrated in the friendship between Jonathan and David are a picture of the steadfast loyalty God extends to us. Many people can't conceive of such a depth of commitment for another person.
It's no surprise then, that the unconditional love God has for us – the kind of love that abides and endures through the rough and changing times in our lives – is difficult to grasp. When we encounter adversity and uncertainty, our first thought is often to feel alone, and abandoned by God.
As a Christian, you are NEVER alone. God is always with you, every minute of the day and every step of the way. He is ALWAYS there! Psalm 139 says "If I ascend into heaven, You [are] there; If I make my bed in hell, behold, you [are there]. [If] I take the winds of morning, [And] dwell in the uttermost parts of the sea, Even there your hand shall lead me, And your right hand shall hold me."
Jesus said, "Greater love hath no man than this, that a man lay down his life for his friends" (John 15:13). Jesus reached out to us first, offering the greatest friendship mankind could ever experience. He came to earth of His own will and laid down His life for each and every one of us to redeem us from sin and iniquity. Jesus shows unconditional love and commitment toward us.
The Bible says Jesus is the Friend who sticks closer than a brother (Proverbs 18:24) and that in Christ, nothing can separate us from His great love (Romans 8:39). There is no safer place to find refuge, peace, rest, and tranquility in the midst of life's storms than with Jesus, your Beloved Friend.
It is very simple to start a relationship with Jesus: you ask Him to be your Savior and Lord. Once you have responded to Him, you can experience and enjoy His continual fellowship. You just need to know that you must make the step of responding to the love He has offered you.
Just by speaking His name, He is right there with you. As you acknowledge His presence in your life and draw near to Him through His word, you begin a conversation with Him.
Will you choose respond "yes" to the most important friend request you'll ever receive? Now that's the choice-driven life!
Today's Bible Reading: 
Isa 20-22; 1 Cor 2

Click Here
for your 5 Day Weekly Bible Reading plan!
Subscribe to our FREE Updates as soon as they are published and receive our FREE Report; Click Here
The Most Important Choice You Can Make: Prayer for Salvation: God in Heaven, I come to You in the name of Your Son, Jesus. I confess that I haven't lived my life for You. I believe that Jesus is the Son of God. I believe that He died on the cross and rose again from the dead so I might have a better life now and eternal life in heaven. Jesus, come into my heart and be my Lord and Savior.
From this day forward, I'll live my life for You to the best of my ability. In Jesus' Name I pray, Amen.
Click Here
if you need more information.