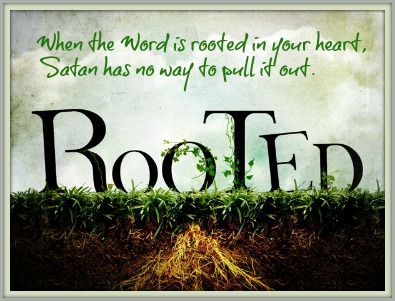 Beware of Offense
And in the same way the ones [seed] sown upon stony ground are those who, when they hear the Word, at once receive and accept and welcome it with joy; And they have no real root in themselves, and so they endure for a little while; then when trouble or persecution arises on account of the Word, they immediately are offended (become displeased, indignant, resentful) and they stumble and fall away. 
Mark 4:16,17 (AMP)
When the Word is rooted in your heart, Satan has no way to pull it out. Instead, he must convince you to cast the Word out of your heart. In fact, convincing you to become offended is a major strategy Satan uses to get you to dig up the root of the Word. You see, if he can tempt you into becoming offended, you will destroy your own harvest. When you choose to become offended, you will stumble, making false steps. The Amplified says that the result of becoming offended is to "stumble and fall away."
The Amplified Bible also gives a good illustration of those whose hearts are as stony ground: "When a person chooses to take offense, immediately his spiritual walk begins to wither away. The flow of life from his spirit begins to ebb and he begins to dry up inside." As Believers, we never, ever should be drying up on the inside. Why? We have the Word, the living water! Psalm 119:165 says, "Great peace have they which love thy law and nothing shall offend them."
The basic problem with a stony ground heart is that its shallow and rocky soil doesn't allow the Word to become firmly rooted. For example, people become tuned in to the Word of God and begin to apply it. Then, six weeks later, when they don't see a change in their situation, they may become offended at God. They are unhappy that they have not experienced the results they believe for.
You may be tempted to think "It's been six weeks since I started believing for my healing and I can't tell any difference in my body. God must not have heard me. He must not care anything about me."
Be careful! You are offended and your thinking is coming from a stony ground heart. Don't allow the devil to talk you into being offended at God. God is never your problem. We have the power to choose wisely; Satan has NO power over us.
As we continually feed our spirits on the Word and keep our hearts in good ground and our roots strong, well-watered, and established, we gain the spiritual strength needed to avoid the enemy's strategy of offense altogether. We must make the choices that lead us to the blessing-filled life that God has promised us.
Will you choose to stay free from offense and believe God that you have the requests you have asked of Him? Now, that's the choice driven life!
Today's Bible Reading:
Hosea 4-6; Matt 17; Psalm 58

Click Here
for your 5 Day Weekly Bible Reading plan!
Subscribe to our FREE Updates as soon as they are published and receive our FREE Report; Click Here
The Most Important Choice You Can Make:
Prayer for Salvation:
God in Heaven, I come to You in the name of Your Son, Jesus. I confess that I haven't lived my life for You. I believe that Jesus is the Son of God. I believe that He died on the cross and rose again from the dead so I might have a better life now and eternal life in heaven. Jesus, come into my heart and be my Lord and Savior. From this day forward, I'll live my life for You to the best of my ability. In Jesus' Name I pray, Amen.
Click Here
if you need more information.