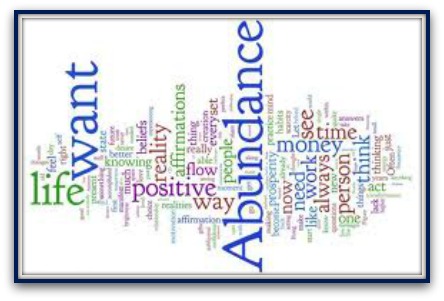 Supernatural Increase and Multiplication
May the Lord give you increase more and more, you and your children.
Psalm 115:14
The Word of God expands our capacity to receive God's power in whatever area we have need. As our faith grows, our capacity to receive grows. And how does this come about? We are transformed by the renewing of our minds to God's truth. For example: "If you abide in me and my words abide in you, ask what you desire and it shall be done for you" (John 15:7). We believe through faith and our faith increases our capacity to receive.
In these uncertain economic times, it's important for us to renew our minds to what God has to say about our prosperity. If we are to fulfill the plans that God has for us, we must prosper in spirit, soul and body. It is also God's plan for us to prosper financially, just as He intends for us to be healed and whole.
When threatened by lack, we toil. Yet in the Kingdom of God, there is a system of supernatural increase and multiplication that goes beyond our efforts. Super means above and beyond, natural is of this world. So, we are looking at increase above and beyond the natural course of this world. That's why we are not limited by times of lack. We may be living in the same economy as everyone else, but we can experience different results. That is why we thrive and not just survive.
Psalm 115:12-16 says: "The LORD hath been mindful of us: he will bless us; he will bless the house of Israel; he will bless the house of Aaron. He will bless them that fear the LORD, both small and great. The LORD shall increase you more and more, you and your children. Ye are blessed of the LORD which made heaven and earth. The heaven, even the heavens, are the LORD'S: but the earth hath he given to the children of men."
The Lord shall increase us to such an extent that we will have excess to pass along to our children. God increases us. It is His will to supernaturally increase us and to supernaturally multiply the seed we sow. The Hebrew word increase means to continually add to over and above what is needed or expected. Isn't that exciting? We will increase supernaturally even in times of economic stress. God has increased us and he will increase us.
The Word of God is not bound by the economy. Our blessings come from heaven and then are manifest in the earth. Our blessings impact the earth, but they come from heaven and the earth must respond. God is the source of increase.
Choose to believe Psalm 115:12-16! God has given is His guidelines and promises and then allows us to choose how we will respond. He has given us the power to choose a life of blessings or of curses (Deuteronomy 30:15-19).
Will you choose to believe that God leans toward you with favour and renders you fruitful? Now, that's the choice-driven life!
Today's Bible Reading: 
Amos 4-6; Matt 14; Psalm 55

Click Here
for your 5 Day Weekly Bible Reading plan!
Subscribe to our FREE Updates as soon as they are published and receive our FREE Report; Click Here
The Most Important Choice You Can Make:
Prayer for Salvation:
God in Heaven, I come to You in the name of Your Son, Jesus. I confess that I haven't lived my life for You. I believe that Jesus is the Son of God. I believe that He died on the cross and rose again from the dead so I might have a better life now and eternal life in heaven. Jesus, come into my heart and be my Lord and Savior. From this day forward, I'll live my life for You to the best of my ability. In Jesus' Name I pray, Amen.
Click Here
if you need more information.