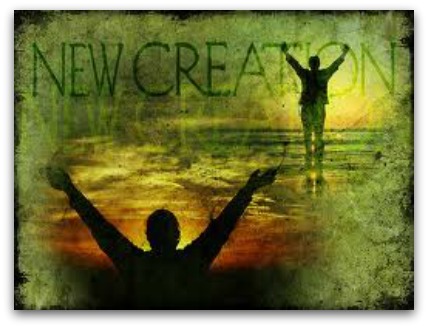 If I'm a New Creature, Why Hasn't My Life Changed?
Therefore if any man be in Christ, he is a new creature: old things are passed away;
behold, all things are become new.
2 Corinthians 5:17
There is nothing more miserable than trying to live a godly life apart from the power of God. If God says that we are a new creature, why can it seem as if the godly life that Christ purchased for us is always just out of reach? We can have assurance of going to heaven, but have no idea how to BE the new creation God says we are. You may even be wondering, "Well, if I'm so 'new', why can't I quit smoking? Why can't I lose this weight? Why am I always sick?" Read on for encouragement and answers to these questions.
When you made Jesus Christ the Lord of your life, the Spirit of God hovered over you and your spirit was immediately reborn. The glory of the Lord came into your being. And that glory consumed the old, sinful man that you were. You were spiritually resurrected the day you made Jesus Christ the Lord of your life. Your spirit – the real you – passed from death to life. Being a new creature in Christ is just that—you are brand spanking new and have a fresh, clean slate. Your spirit is new. And next begins the transformation of your soul (your mind, will and emotions).
Satan would have you believe that you are still under his power; that there is no other way to live but as if you are spiritually dead. Renewing your mind takes time. A renewed mind is simply the change from your old ways of seeing things to thinking God's thoughts (Colossians 3:9-10). This in turn will change your old way of acting into the way He wants you to act. New thoughts change old actions.
So, when can you expect this new creation to show up in your life? Just because God says that you are a new creature doesn't mean you will immediately act like one. You must align your mind with the new nature of your spirit. (Romans 12:2). Another way of saying it is that you must make the choice to think God's thoughts and say God's words.
For example, to answer your question of why the new creation of YOU has not yet quit smoking, I would ask you in return if you have aligned your thoughts and words with the reality of God's thoughts. Do you believe and say "All things are possible with God" (Luke 1:37)? Do you have faith and confess that you can tell your mountain to be cast into the sea and it will come to pass (Mark 11:23)? Smith Wigglesworth, a British evangelist, said "God has designed that the just [that's you!] shall live by faith. Any man can be changed by faith no matter how he may be fettered" (emphasis mine).
You can have faith in God that you ARE the new creation He says you are. You have a new life, new choices, a new future, new options—a new YOU. Who you were and what you did before you took Jesus as your Savior is now called the "old man" and that old man died.
Today is a new day for you. Begin to consider yourself as alive! Begin thinking of yourself as one who already has the life of God, instead of as an earthly being who's waiting for the resurrection. Consider yourself dead to sin and alive to the power of Jesus. You'll find yourself living a whole new life today!
Will you choose to see yourself as the new creature that God says you are? Now, that's the choice driven life!
Today's Bible Reading: 
Joel; Matt 10

Click Here
for your 5 Day Weekly Bible Reading plan!
Subscribe to our FREE Updates as soon as they are published and receive our FREE Report; Click Here
The Most Important Choice You Can Make:
Prayer for Salvation:
God in Heaven, I come to You in the name of Your Son, Jesus. I confess that I haven't lived my life for You. I believe that Jesus is the Son of God. I believe that He died on the cross and rose again from the dead so I might have a better life now and eternal life in heaven. Jesus, come into my heart and be my Lord and Savior. From this day forward, I'll live my life for You to the best of my ability. In Jesus' Name I pray, Amen.
Click Here
if you need more information.