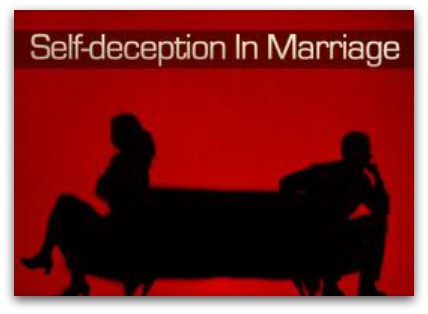 Seven Deceptions About Marriage
At one time we too were foolish, disobedient, deceived and enslaved
by all kinds of passions and pleasures. 
Titus 3:3a
People have all kinds of crazy ideas about marriage. It's both easy and dangerous to allow popular culture to color our thoughts about one of the most important commitments of our lives. And Christians are not exempt from holding incorrect ideas, from being deceived, so to speak. Today I'd like to examine some commonly held deceptions about marriage.
1. "A Good Marriage Is Always Exciting."
Movies portray the romantic highs of love and reinforce the fallacy that the feeling of being "in love" should last forever. And if it doesn't…well, perhaps it's time to move on to a "better" relationship. The real key to keeping your marriage exciting is an act of the will, a choice to honor your commitment to another person. The choice to remain together and work through problems often results in a renewed passion for each other and helps an 'okay' marriage grow into a great marriage.
2. "If This Marriage Doesn't Work Out, I Can Always Start Over With Someone Else."
In our culture divorce seems like the reasonable and obvious alternative when things aren't going the way we expect. But what happens when the next relationship is not perfect? There will always be some way you're not compatible with your spouse.
3. "Marriage Will Fulfil My Dreams."
While marriage is a wonderful gift from God, it is certainly not a guarantee that you will always be happy. No one person, no matter how wonderful or godly he or she is, can fulfill all of your dreams or meet all your needs. It's impossible. There is a space in your heart that only God can fill. Don't expect others to do what only God can do.
4. "Marriage Is Easy. I Won't Have To Work At It."
If a marriage is built to last, it needs a love that encompasses commitment, faithfulness, communication, understanding, forgiveness, honesty, patience, time, common experiences and humor, to name just a few essentials. It takes work to develop a loving marriage!
5. "My Spouse Is The One Who Needs To Change."
We all think that we are not "the ONE with the problem." We have the inborn habit of pouncing on the negative and under valuing the positive. It is so easy to place the 100 percent of the blame the other person, especially if they have wronged us. Settling heated disagreements requires humility, along with love, a willingness to forgive and faith in God's ability to change us.
6. "Having A Child Will Make Me Happy."
Children are a gift from the Lord (Psalm 127:3). And gifts make us happy…until they don't. Anything that we try to use to fill a space in our hearts that only God can fill will leave us unsatisfied. Only God's love will satisfy us with a lifetime of joy, which surpasses mere happiness.
7. "My Spouse Would Never Look At Pornography."
A 2003 survey from Internet Filter Review reported that 47% of Christians admit pornography is a major problem in their homes. We cannot afford to be naïve when it comes to understanding the nature of sin and its addictive qualities. Let's be on guard against allowing pornography to find its way into our homes. If it has already happened, women need to recognize that their husbands need help. Encourage your husband to find a godly accountability partner. Create a climate of honesty in your home so that even if your husband fails, you can pray together for victory over sin.
From time to time, it's a good idea to check ourselves for deceitful ideas that may have crept in about marriage. Honesty with ourselves will help us have loving, enduring marriages.
Will you make the choice to know God's truth about marriage? Now, that's the choice-driven life!
Today's Bible Reading: 
2 Kings 7-8; 2 Chr 21; Matt 6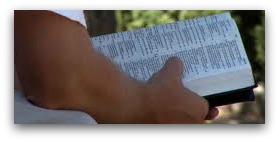 Click Here
for your 5 Day Weekly Bible Reading plan!
Subscribe to our FREE Updates as soon as they are published and receive our FREE Report; Click Here
The Most Important Choice You Can Make:
Prayer for Salvation:
God in Heaven, I come to You in the name of Your Son, Jesus. I confess that I haven't lived my life for You. I believe that Jesus is the Son of God. I believe that He died on the cross and rose again from the dead so I might have a better life now and eternal life in heaven. Jesus, come into my heart and be my Lord and Savior. From this day forward, I'll live my life for You to the best of my ability. In Jesus' Name I pray, Amen.
Click Here
if you need more information.