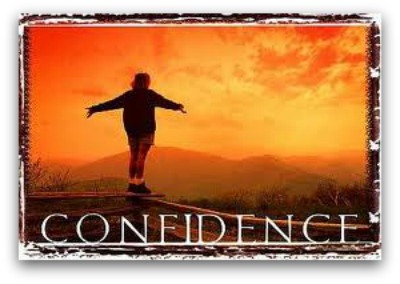 Where is Your Confidence Placed?
…apart from Me [cut off from vital union with Me] you can do nothing.
John 15:5 (AMP)
Self-confidence can be complicated. On the one hand, we must be confident in who we are. Yet having confidence in ourselves is a bad idea. The key is to have confidence in who we are in Christ.
Our confidence can be shaken when trials come, especially if the trials are long lasting. We become impatient, perplexed and then full of doubt. But it is important to understand how much God loves us, that He is always with us, and that He ALWAYS causes us to triumph. No matter what.
Why do we lose our confidence so quickly? Because it is placed in something or someone other than God and our identity in Jesus. Much of our inner agony, struggles and frustration are rooted in misplaced confidence.
I'm not suggesting that we can't place trust in ourselves or others. But if we misdirect the trust which belongs to God alone, it will be difficult to experience the victory that we so desire. God will not allow us to succeed until our assurance is in the right place, in the right person.
Although we may fail at points along our path to success, God did not create us to fail. If we put our confidence in Him, He will take our mistakes and work them out for good (Romans 8:28). I have experienced this first hand. Many times God has taken my mistakes and turned them into miracles.
We all have a destiny on our lives. That destiny is revealed in what we are good at, passionate about, and/or constantly think about. When we don't do what we are called and gifted to do, we most often feel frustrated and unfulfilled. However, just because we are destined to do something, does not mean that our destiny falls immediately into place.
Destiny is marked by a season of learning and testing. This is the time that many people want to give up and quit. It's tempting to lose confidence when our limited abilities don't produce the kind of results we want and expect. There are seasons of our life in which we must remind ourselves: "This too shall pass! I will become stronger through the trial and it will help me in the future!" By focusing our confidence on God and His good plan for us, we can continue to move forward toward our destiny. Confidence in God is fundamental to progressing steadily.
When we lose our confidence, we give place to the devil. We must be confident about our gifts and calling. And believe that we hear from God. It's also important to be confident that we have favour with people, and that we are liked. As we increase in confidence, we increase in boldness. We become the champions that God has created us to be.
Will you choose to firmly place your confidence in God? Now that's the choice driven life!
Today's Bible Reading:
1 Kings 17-18; Jude; Psalm 119

Click Here
for your 5 Day Weekly Bible Reading plan!
Subscribe to our FREE Updates as soon as they are published and receive our FREE Report; Click Here
The Most Important Choice You Can Make:
Prayer for Salvation:
God in Heaven, I come to You in the name of Your Son, Jesus. I confess that I haven't lived my life for You. I believe that Jesus is the Son of God. I believe that He died on the cross and rose again from the dead so I might have a better life now and eternal life in heaven. Jesus, come into my heart and be my Lord and Savior. From this day forward, I'll live my life for You to the best of my ability. In Jesus' Name I pray, Amen.
Click Here
if you need more information.