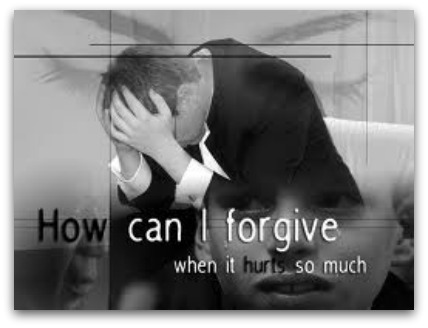 To Forgive or Not To Forgive, That Is The Question
Then Peter came and said to Him, "Lord, how often shall my brother sin against me and I forgive him? Up to seven times?" Jesus said to him, "I do not say to you, up to seven times,
but up to seventy times seven.
Matthew 18:21,22 (NASB)
Imagine a friend, someone you really trust, who tells a lie about you. The person asks for forgiveness and you forgive. But then you find out that they've done it again. Ouch. It's hard, but you forgive them once more. As time goes on, you discover that they continue spreading lies about you. Are you still quick to forgive them? In our own ability, that sounds really hard to do. But we are supernaturally equipped to forgive. It's a choice.
Unforgiveness is a heavy and toxic load. It can become the "baggage" we carry around for a lifetime. The toxicity or poison of unforgiveness is well documented as a root of physical and mental diseases. It's so easy for us to sit in judgement and decide who does and does not "deserve" our forgiveness. We can easily justify why we will never forgive a person. And from the world's point of view, we could be "in the right" to withhold our forgiveness. But that's not how God sees it.
Forgiveness is a powerful force. Our salvation is based in forgiveness. God chose to forgive us and Jesus commands us to forgive as we have been forgiven. Jesus himself said this in Matthew 6:14,15: If we don't forgive other people, neither will our Father who is in heaven forgive us. In the Gospels, Jesus repeatedly preached or taught about forgiveness. And His dying words were "Father forgive them, for they know not what they do" (Luke 23:34).
When we choose to indulge ourselves in unforgiveness, our fellowship with the Father is hindered. First, we are disobeying Him; second, we are putting ourselves in His place as the judge; and not least, we are acting in negativity toward someone else whom Jesus loves and died for.
Much offense is caused by what we perceive to be a violation of our "rights" – or how we expect the world to treat us. The more we insist on clinging to our "rights," the more we undermine the things that God is trying to do in our life.
It is also important to realize that in holding on to unforgiveness, we are allowing the person who caused us heartache and pain to continue to control us. When we forgive, we release ourselves from that control and release the person into the hands of God. God can and will take care of that person.
God is a good God. He would never ask us to forgive if He hadn't given us the ability and the grace to do so. We have the blood of Jesus, the name of Jesus, the empowerment of the Holy Spirit and the Word of God. We have everything we need to overcome in this life and to help other people. But unforgiveness can block all provision.
Forgiving people are happier and easier to be around. Unforgiving people carry a chip on their shoulder. They are difficult to be around and therefore, have difficulty in forming healthy relationships.
Will you choose to forgive as God has forgiven you? Now that's the choice driven life!
Today's Bible Reading:
1 Kings 17-18; Jude; Psalm 119

Click Here
for your 5 Day Weekly Bible Reading plan!
Subscribe to our FREE Updates as soon as they are published and receive our FREE Report; Click Here
The Most Important Choice You Can Make:
Prayer for Salvation:
God in Heaven, I come to You in the name of Your Son, Jesus. I confess that I haven't lived my life for You. I believe that Jesus is the Son of God. I believe that He died on the cross and rose again from the dead so I might have a better life now and eternal life in heaven. Jesus, come into my heart and be my Lord and Savior. From this day forward, I'll live my life for You to the best of my ability. In Jesus' Name I pray, Amen.
Click Here
if you need more information.