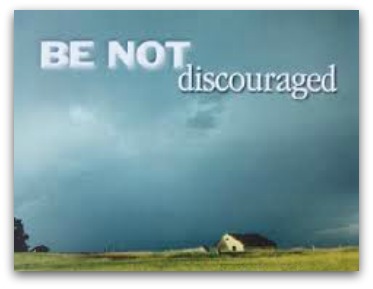 How to Turn Seeds Into Sheaves
He who goes out weeping, carrying seed to sow, will return with songs of joy,
carrying sheaves with him.
Psalm 126:6
Can you remember the last time you were so discouraged and downhearted that you wanted to weep? Or maybe you're going through such a time right now. Believers are not exempt from sorrow. Psalm 126:6 is short and simple yet packed with godly wisdom for what to do when our circumstances have brought us to tears. Let's look at this powerful verse phrase by phrase.
He who goes out weeping
Do you shut down and abandon your dreams when you feel discouraged? Many people react to disappointment by withdrawing, pondering the unfairness of life and how they have been wronged. Despair can cause us to choose to avoid others. We don't want people to see us in our low state and we really don't want to exert the energy to reach out beyond ourselves. We would rather wait until the tears have passed; wait until we're more composed. That is not God's way. He encourages us to "go out" while our eyes are still red, with Kleenex in one hand and seed in the other.
…carrying seed to sow
But God doesn't want us to go out and wander around aimlessly. We are to go out with a purpose – with seed to sow. Seed represents many things. As believers our seed is the Word of God. When we go out carrying seed to sow, we confess God's good plan over our situations and our lives – in the middle of our tears. Our hope, vision, destiny, skills and abilities are also seed. Regardless of our despair, it is important to continually sow. Ecclesiastes 11:6 tells us: "Sow your seed in the morning, and at evening let not your hands be idle, for you do not know which will succeed, whether this or that, or whether both will do equally well." Become a sower during difficult times and soon it will be time for a comeback.
…will return
As long as we have breath in us, we are in the process of returning. God never intends for us to put down roots in in the midst of trouble, disappointment, or grief. Just as He brings our seed to maturity, He makes the way of return. But not just any return. He prepares a return that is significantly different than how we went out. Our red-rimmed eyes are now clear and victorious. Our Kleenex's are no longer needed. And we're singing.
…with songs of joy
At first reading, it may appear that the songs of joy are happiness for the reversal of circumstances. But I believe that the songs of joy are worship of the One who "always causes us to triumph." Yes, His intervention on our behalf brings us personal joy. But our surpassing joy is in Him. When we take time in the middle of our circumstances to meditate on God's goodness, excitement builds in anticipation of the return trip.
…carrying sheaves.
We go out with tears and seeds, and isn't it just like God to bring us back with bundles and bundles and bundles of blessing? He provides abundance, overflow, and the means to share with others. Though you may now be weeping, trust God. He has amazing things in store for you.
Will you choose to "carry your seed" and "go out"? Now that's the choice driven life!
Today's Bible Reading:
1 Kings 12; 2 Chr 10-11; Titus 1

Click Here
for your 5 Day Weekly Bible Reading plan!
Subscribe to our FREE Updates as soon as they are published and receive our FREE Report; Click Here
The Most Important Choice You Can Make:
Prayer for Salvation:
God in Heaven, I come to You in the name of Your Son, Jesus. I confess that I haven't lived my life for You. I believe that Jesus is the Son of God. I believe that He died on the cross and rose again from the dead so I might have a better life now and eternal life in heaven. Jesus, come into my heart and be my Lord and Savior. From this day forward, I'll live my life for You to the best of my ability. In Jesus' Name I pray, Amen.
Click Here
if you need more information.