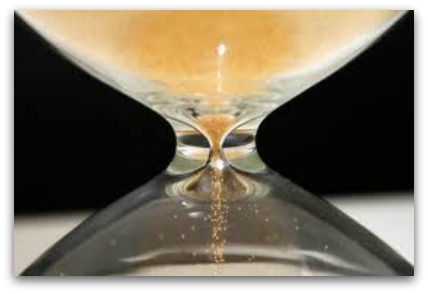 Time is Precious
Teach us to realize the brevity of life, so that we may grow in wisdom.
Psalm 90:12 NLT
Have you ever felt that time was slipping through your fingers like grains of sand through an hourglass? I am sure that we all know that feeling. Historians use the expression, "the sands of time," when they write about a certain passage of events.
Let's talk about time. What is it? It's been said "it [time] is a measure of existence or the passing of events that irreversibly proceeds from the past, to the present, and on into the future." Time can be divided into seconds, minutes, hours, and days. Days become months and years, but actually "time" is only the moment we have right now.
Although time can be measured, it can't be stored. When a moment is gone, it is gone forever. You can plan the future and hold memories of the past, but "now" is all the time you and I possess. Therefore, we shouldn't waste that time by procrastinating. When we do, time passes and we will have accomplished nothing with our lives.
God has given us 24 hours in each day. Solomon said in Ecclesiastes 3:1-2 that there is a time for everything in the life of any individual. If we are to be successful, as God intends, then every moment must count. The Bible says it is the sluggard who wastes time.
Wise people make wise use of time. The book of Revelation tells us that when we all step into eternity, time will be no more. But until that last day, it is God's desire for His people to build wisely upon the framework He has given to us.
How we choose to spend our time will determine our success or failure; our work and our reward, not only now but also in God's eternal kingdom. God wants us to achieve something. When we are good stewards of our time, we can achieve all God has for us to do.
Joshua was a man of God, chosen to lead the children of Israel into the Promised Land. Taking possession of the land required that he fight a battle against the Amorite kings. Joshua and his men were doing their part and continued the battle throughout the day. Daylight was waning and Joshua was running out of time to finish the battle. He cried to the Lord for help asking Him to lengthen the day for him so he could fight to the finish. And God did exactly that (Joshua 10:12,13). What a way to get the most out of your day. You see, when you have done your best, you can even ask God for miraculous help.
Will you choose to treat time as precious? Now, that's the choice driven life!
Today's Bible Reading: 
1 Kings 8; 1 Tim 3; Psalm 30

Click Here
for your 5 Day Weekly Bible Reading plan!
Subscribe to our FREE Updates as soon as they are published and receive our FREE Report; Click Here
The Most Important Choice You Can Make:
Prayer for Salvation:
God in Heaven, I come to You in the name of Your Son, Jesus. I confess that I haven't lived my life for You. I believe that Jesus is the Son of God. I believe that He died on the cross and rose again from the dead so I might have a better life now and eternal life in heaven. Jesus, come into my heart and be my Lord and Savior. From this day forward, I'll live my life for You to the best of my ability. In Jesus' Name I pray, Amen.
Click Here
if you need more information.