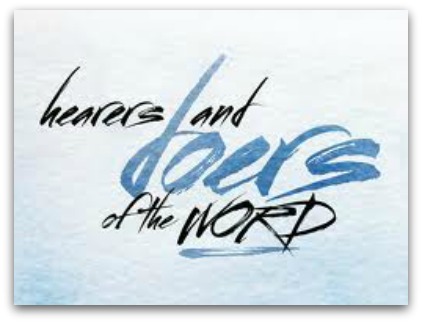 Be A Doer of The Word
Anyone who listens to the word but does not do what it says is like someone who looks at his face in a mirror and, after looking at himself, goes away and immediately forgets what he looks like. But whoever looks intently into the perfect law that gives freedom, and continues in it—not forgetting what they have heard, but doing it—they will be blessed in what they do.
James 1:23-25
We always should remember that God is smarter than we are. He sees the big picture of eternity. Are you acquainted with people who know what God wants them to do and then consciously say "no"? James 1:23-24 tells us clearly that if we only listen to the Word, but don't obey it, it is like looking in a mirror and then going away and forgetting what we saw.
But a doer of the Word is like one who looks carefully in the faultless law of liberty, and is faithful to it and perseveres in looking into it. He obeys what he reads and will be blessed because of doing what he reads.
God's goal is not for us to feel good all the time. He wants to stretch and change us, so we can progress to greater heights in our lives. You see, whenever we read God's Word and it calls on us to do a certain thing or to change a certain way, we are supposed to obey and not just lay it aside.
We shouldn't start reasoning about it either; we deceive ourselves if we do. Don't be among those who explain away things in the Bible that don't fit with the way they live; those who convince themselves that God doesn't expect them to do what the Word says. That is deception of the first degree!
Instead, be counted among those who love the Word of God and are transformed through their obedience to it. Have the right attitude toward the Word, taking it seriously when God says something or makes you aware of something that you should lay aside.
When the Bible speaks about something that we know we should obey, it is not a suggestion or an opinion. No, it is something that is for own good and it is in our best interest to obey. God expects us to take action by being a doer of His Word, and when we are obedient, He promises that we will be blessed.
Will you make the choice to be obedient and to act on what God shows you in His Word? Now, that's the choice driven life!
Today's Bible Reading: 
Proverbs 29-31; 1 Thess 4

Click Here
for your 5 Day Weekly Bible Reading plan!
Subscribe to our FREE Updates as soon as they are published and receive our FREE Report; Click Here
The Most Important Choice You Can Make:
Prayer for Salvation:
God in Heaven, I come to You in the name of Your Son, Jesus. I confess that I haven't lived my life for You. I believe that Jesus is the Son of God. I believe that He died on the cross and rose again from the dead so I might have a better life now and eternal life in heaven. Jesus, come into my heart and be my Lord and Savior. From this day forward, I'll live my life for You to the best of my ability. In Jesus' Name I pray, Amen.
Click Here
if you need more information.