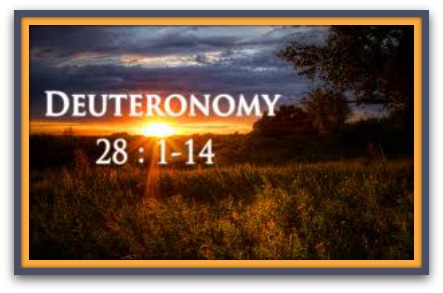 Frame Your Life With God's Blessings
The LORD bless thee, and keep thee: The LORD make his face shine upon thee, and be gracious unto thee:  The LORD lift up his countenance upon thee, and give thee peace.  
And they shall put my name upon the children of Israel; and I will bless them.
Num 6:24-27
I have interpreted Deuteronomy 28:1-14 into a prayer and confession with which you can daily frame your life, your marriage and family. Make a choice to believe these blessings today, and as a result, your life will be enriched as never before.
"Because we diligently obey the voice of the Lord our God and all of His commandments, He will set my life and my family on high above all nations of the earth.
"All of His blessings will come upon us and overtake us, because we obey His voice.

"Blessed shall we be in the city, and blessed shall we be in the country.
"Blessed shall be the fruit of our body, the produce of or ground and the increase of our herds, the increase of our cattle and the offspring of our flocks.
"Blessed shall be our basket and kneading bowl.
"Blessed shall we be when we come in and blessed shall we be when we go out.

"The Lord will cause our enemies who rise against us to be defeated before our face; they shall come against us one way and flee before us seven ways.

"The Lord will command the blessing on us in our storehouses and in all to which we set our hands, and He will bless us in the land which the Lord our God is giving us.

"The Lord will establish us as a holy people to Himself, just as He has sworn to us, if we keep His commandments and walk in His ways.

"Then all the people of the earth shall see that we are called by the name of the Lord, and they shall be afraid of us.

"And the Lord shall grant us plenty of foods, in the fruit of our body, in the increase of our livestock, and in the produce of our ground, in the land which the Lord swore to our fathers to give us.

"The Lord will open to us His good treasure, the heavens to give the rain to our land in its season and to bless all the work of our hands. We shall lend to many, but we shall not borrow.

"And the Lord will make us the head and not the tail; we shall be above only, and not beneath, if we heed the commandments of the Lord God, which He commands us today and we are careful to observe them.

"We shall not turn aside from any of the words which God commands us this day, to the right hand or to the left, to go after other gods to serve them."
Will you make a choice to receive these blessings in your personal life, in your marriage, in your family, and in your home, in Jesus' name? Now, that's the choice-driven life!
Today's Bible Reading: 
Proverbs 6-7; Romans 11; Psalm 7

Click Here
for your 5 Day Weekly Bible Reading plan!
Subscribe to our FREE Updates as soon as they are published and receive our FREE Report; Click Here
The Most Important Choice You Can Make:
Prayer for Salvation:
God in Heaven, I come to You in the name of Your Son, Jesus. I confess that I haven't lived my life for You. I believe that Jesus is the Son of God. I believe that He died on the cross and rose again from the dead so I might have a better life now and eternal life in heaven. Jesus, come into my heart and be my Lord and Savior. From this day forward, I'll live my life for You to the best of my ability. In Jesus' Name I pray, Amen.
Click Here
if you need more information.