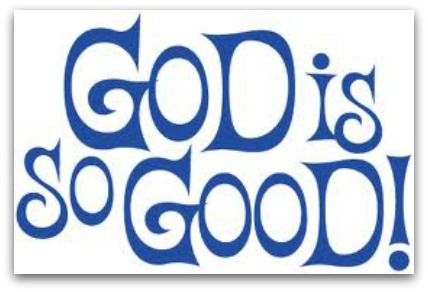 God Is A Good God
Because God is good, He gave the life of His Son, Jesus Christ,
in order to provide a way for man to be cleansed and
freed from the power of sin and damnation
(John 3:16-17)



Through Jesus' obedience to the Father's will, we are now able to be restored to God and experience His goodness in our lives. We are able to take part in the good plan He has for us. Any desire on our part to be reconciled to God, is because His goodness and mercy lead us to repentance (Romans 2:4).
God loves all of us "in spite of," not "because of" what we have become or done. No one but Jesus could love us through our past, present and future faults and failures.
We can know that God is good by considering Jesus. Jesus said, "…he that has seen me has seen the Father…" (John 14:9). Jesus is the expressed will of God.
We read in the gospels that the will of God for our lives is good (Acts 10:38). Some people have been taught that God disciplines us by causing us to be sick or bringing tragedy into our lives. That idea absolutely doesn't agree with what the Bible says. Jesus never made people sick or caused tragedy. He went about doing good and healing those who were sick.
I have heard the argument, "Well, what about the Old Testament incidents of sickness and judgment?" Again, remember, God did not intend evil for mankind. Man made the choice to sin, and sin brought its own judgment or penalty. Those who turned to God received mercy.
God teaches and disciplines us with His Word and His Spirit. We read in Psalm 23 where David said, "…thy rod [His Word] and thy staff [His Spirit] they comfort me" (Psalm 23:4). The rod is an instrument of guidance or direction. The shepherd uses the rod to guide the sheep away from a path that leads to destruction, and the staff is used to draw a sheep to the shepherd.
If we choose the wrong path, God's rod [His Word] and staff [His Spirit] are available to direct us away from destruction and draw us to the Shepherd. But avoiding catastrophe depends upon whether or not man chooses to allow God to teach him. If not, he may continue to stay on the wrong path and inevitably face destruction.
God our Father offers discipline as the highest form of love. He said, "All scripture is given by inspiration of God, and is profitable…for reproof, for correction, for instruction in righteousness" (2 Timothy 3:16).
Not only do we receive reproof and correction through the Word of God, but we also receive instruction and inspiration to build us up.
As a Christian, have you felt the correction of God's Word when you read it or heard it preached, and immediately wanted to make a change and correct your ways? I have, too.
Will you make a choice to respond to God's goodness expressed through His willingness to correct us? Now, that's the choice-driven life!
Today's Bible Reading: 
2 Sam 18-20; Romans 2; Psalm 34

Click Here
for your 5 Day Weekly Bible Reading plan!
Subscribe to our FREE Updates as soon as they are published and receive our FREE Report; Click Here
The Most Important Choice You Can Make:
Prayer for Salvation:
God in Heaven, I come to You in the name of Your Son, Jesus. I confess that I haven't lived my life for You. I believe that Jesus is the Son of God. I believe that He died on the cross and rose again from the dead so I might have a better life now and eternal life in heaven. Jesus, come into my heart and be my Lord and Savior. From this day forward, I'll live my life for You to the best of my ability. In Jesus' Name I pray, Amen.
Click Here
if you need more information.