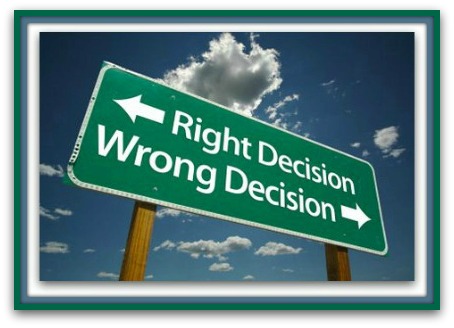 Is it necessary to be right?
So whoever knows the right thing to do and fails to do it, for him it is sin.
James 4:17 ESV
 
Have you ever been in a situation that standing up for your rights meant stepping out of the will of God? The western world is highly focused on individual rights. And most people are consumed with making sure no one violates or denies them their rights.
We should be very thankful that we live in a country in which we are guaranteed certain rights by our constitution, and that we can exercise those rights. But what should you do when you encounter a situation in which standing up for your own rights is contrary to the will of God?
I believe that the time is coming when we as believers are going to be faced with decisions that demand a choice between "rightness" and "righteousness." Such choices will shape our destinies for the days to come.
It is important to embrace your destiny, and pursue God's righteousness, through faith, rather than needing to be right all the time.
Do you know someone who insists on being right all the time? Someone who doesn't give in until you and everyone else know that they were right all along? That's "rightness." On the other hand, righteousness is a virtue and refers to uprightness. Righteousness holds the basis of your "rights" or "benefits" with God.
When you have God's righteousness, you have the right to forgiveness of sin, the right to healing, the right to the presence and empowerment of the Holy Spirit, the right to success, and the right to security.
These rights were granted to you because God, in His mercy, loves you so much that He provides them. You didn't do anything to earn deserve them. It's all because God loves you and me. He gave them as a gift to us.
I have always wondered why so many Christians do not partake of the benefits of their righteousness. Are they not aware of these benefits? Surely if they were, they would take up all the benefits or promises to their advantage.
When we are ignorant of our righteousness in God, we don't know about the promises to which we have a right. The consequence is that we must try to establish our own righteousness or rightness.
I have heard many stories about disagreements over a business transaction. It may be that one of the people was cheated out of money. The cheated person has a "right" to receive restitution. But God tells us not to worry about it, and that He will take care of it.
The person who was cheated must make a decision whether to pursue his or her rights or let God deal with the other party.
Would you do whatever is necessary to prove that you are right? After all, you would have been cheated! Or would you stand in the righteousness of God and trust Him to move on your behalf? The first choice is pursuing your own rightness and the second choice is to pursue God's righteousness.
Today's Bible Reading: 
2 Sam 15-17; Romans 1; Psalms 3, 63

Click Here
for your 5 Day Weekly Bible Reading plan!
Subscribe to our FREE Updates as soon as they are published and receive our FREE Report; Click Here
The Most Important Choice You Can Make:
Prayer for Salvation:
God in Heaven, I come to You in the name of Your Son, Jesus. I confess that I haven't lived my life for You. I believe that Jesus is the Son of God. I believe that He died on the cross and rose again from the dead so I might have a better life now and eternal life in heaven. Jesus, come into my heart and be my Lord and Savior. From this day forward, I'll live my life for You to the best of my ability. In Jesus' Name I pray, Amen.
Click Here
if you need more information.