That Door Can Be Opened
I know what you have done. See, I have opened a door in front of you that no one can shut.
You only have a little strength, but you have paid attention to my word and have not denied my name.
Rev 3:8 GW
Have you ever felt backed into a corner, hemmed in by huge problems around you? Sure you have; we all have. Life is not always easy.
Some people spend years trying to work out their way out of financial problems, only to end up deeper in debt. Others work on their marriage relationship only to see it grow worse from year to year. And then there are those who fight losing battles against fear, depression, addictions or disease.
Deep in your heart, you know that there must be a way out of the problem you face. But the answer seems to be hidden behind a locked door.
Today, you can make the decision that no matter what it takes, you will OPEN THAT DOOR. Jesus Himself has given you the keys.
God has a key ring, full of keys, which will unlock any situation. He has the keys to all the locked doors in your life whether they are spiritual, physical, financial or emotional. When the devil tries to ambush you, telling you that your situation is hopeless, you need to grab hold of the key that will unlock the door and move you out of that stuck place!
God has given you all the keys in His Word; keys to bind the work of the devil and keys to loose yourself from all his snares. Be determined. Go through the Bible, chapter by chapter until you find God's key to your problem. God has a key that will undo the most secure barrier that the devil can erect. He also has a key that will lock up the work of the devil so securely that he will no longer be free to act in this area of your life.
Know this: there is no situation so dark that the Light is not able to break through. There is always a key that will unlock your door.
There is always an answer to your particular situation, so keep seeking it until you find the key. Keep knocking at every door until you find the one that opens.
Will you believe that God has opened a door in front of you that no one can shut? Now, that's the choice-driven life!
Today's Bible Reading:
Gen 9-11; Mark 4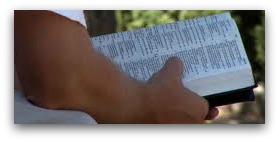 
Click Here for your 5 Day Weekly Bible Reading plan!
The Most Important Choice You Can Make:
Prayer for Salvation:
God in Heaven, I come to You in the name of Your Son, Jesus. I confess that I haven't lived my life for You. I believe that Jesus is the Son of God. I believe that He died on the cross and rose again from the dead so I might have a better life now and eternal life in heaven. Jesus, come into my heart and be my Lord and Savior. From this day forward, I'll live my life for You to the best of my ability. In Jesus' Name I pray, Amen.
Click Here if you need more information.